Smartphones have revolutionized the mobile device market, so it's no surprise that leading suppliers for that industry are also shifting.
In 2012, Qualcomm Inc. and Samsung dominated growth in the cellphone core IC market, capturing 31 percent and 21 percent of market share, respectively, according to the Wireless Competitive Landscape Tool produced by IHS.
"As smartphones and the next-generation wireless standard known as 4G Long Term Evolution (LTE) have gained popularity, the corresponding influences from both forces have created paradigm shifts that transformed competition in the mobile handset core IC market," said Brad Shaffer, analyst for consumer & communications at IHS.
"The arrival of Apple's iPhone five years ago changed the game and paved the way for the current market rankings. This change is illustrated by looking at the major differences in the cellphone core IC rankings from 2007 to 2012. The companies that benefited from the shift in market orientation rose to dominance while those that were caught between changing market environments were left in limbo."
Together, Qualcomm and Samsung accounted for more than half of the total core IC market, with the next eight vendors in the Top 10 accounting for 34 percent. The other eight vendors are, in descending order, MediaTek, Intel, Skyworks, Texas Instruments, ST-Ericsson, Renesas, Spreadtrum and Broadcom. The Top 10 enjoyed a collective 86 percent share of the market.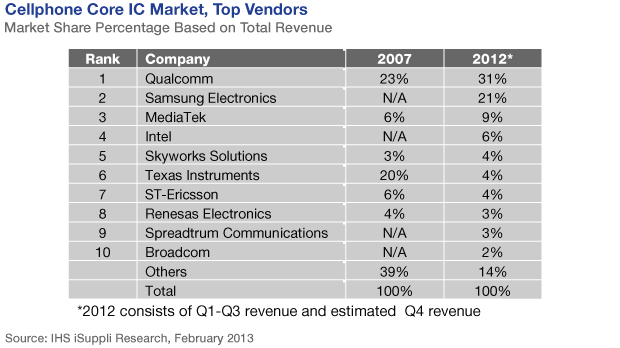 Of the companies that did not even rank back in 2007, Samsung has climbed the quickest, driven by its presence in the applications processor space. Also among those making the jump from outside the Top 10 is Intel, in fourth position at the end of last year after acquiring Infineon's wireless division. It remains to be seen how successful Intel will be in utilizing the acquisition, finalized in 2011, in order to increase the breadth of its mobile product offering and increase the likelihood of winning design slots for those mobile products.
While Qualcomm increased its lead at the top from 2007 to 2012, Texas Instruments fell from second to sixth place — down from a 20 percent share to just 4 percent. TI's proprietary OMAP product line of chips for portable and mobile multimedia applications has not taken off as quickly as expected, and as a result, the company could not offset its planned exit from baseband products.
Two other vendors also broke into the ranks of the Top 10 in 2012. In ninth place, Spreadtrum expanded its digital baseband IC revenue by more than 370 percent within the five-year period. And Broadcom expanded revenue by a similar dizzying rate to land at No. 10 — thanks in part from its baseband IC revenue gaining traction from design wins with Samsung.