Researchers at the University of Southern California, led by Professor Sri Narayan, have developed a new type of battery that is water-based, long-lasting, and can be built from inexpensive components. The battery is non-metallic, is high-capacity, and could be used in renewable energy power plants for energy storage.
This development was published in the Journal of the Electrochemical Society on June 20, 2014. "The batteries last for about 5,000 recharge cycles, giving them an estimated 15-year lifespan," said Narayan. "Lithium ion batteries degrade after around 1,000 cycles, and cost 10 times more to manufacture," he adds.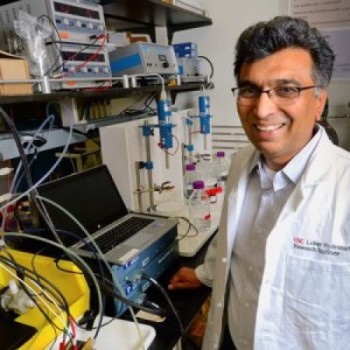 USC Professor Sri Narayan's research focuses on the fundamental and applied aspects of electrochemical energy conversion and storage to reduce the carbon footprint of energy use and provide alternatives to fossil fuel. (Credit: USC Photo / Gus Ruelas)
The Organic Redox Flow Battery (ORFBAT), is built with two different water-soluble, organic redox couples on the positive and negative sides of the battery. No metal catalysts are needed, making the battery eco-friendly. The design is similar to a fuel cell: two tanks contain electroactive materials dissolved in water. The solutions are pumped into a cell divided by a membrane that separates the two fluids. Each side of the membrane contains the electrodes that release energy. The tanks of electroactive materials can be tailored to produce as much energy as needed.
The most important design concern was centered on the electroactive materials. The team wanted to find an organic compound that is soluble in water and can provide energy transfer. Other types of batteries use metals or toxic chemicals; Narayana wanted a non-toxic organic compound. After many trials the team found certain types of naturally occurring quinones (oxidized organic compounds) that fit the design criteria. Quinones are found in many plants, fungi, and bacteria, and are active in plant photosynthesis.
"These are the types of molecules that nature uses for energy transfer," Narayan said. The quinones exhibit a fast proton-coupled electron transfer, and in acid media they are remarkably stable. These properties make the quinone-based redox couple suitable for metal-free rechargeable batteries.