In a continuation of the previous quarter's trend ARM Holdings plc (Cambridge, England) signed up a near record number of new licensees but saw year-on-year growth in royalties drop to just 2 percent on unit shipments up 11 percent.
The strong licensing quarter included the licensing of lead partners for two forthcoming ARM 64-bit cores called Artemis and Maia. Artemis is thought to sit between the Cortex-A53 (little) and Cortex-A57 (big) much as the Cortex-A12 sits between Cortex-A7 and Cortex-A15 in the 32bit product line up.
The licensing helped offset the slow royalties that CEO Simon Segars, speaking to analysts in a conference, said was due to a mix of a consumer cyclicality and weakness and inventory correction in the high-end smartphone market where ARM cores command a higher royalty rate. Segars said royalty rates are expected to accelerate in the second half of 2014. "We think we are at, or near, the bottom of this cycle," Segars said.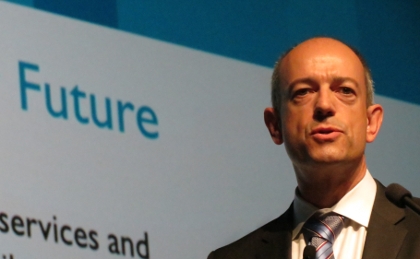 ARM CEO Segars said smartphone inventory correction close to over.
The 41 licensees for processor architecture and cores signed in the quarter was driven partly by great interest in ARM's 64-bit capable instruction set architecture, the v8-A. To date ARM has signed a total of 50 v8-A licensees with 28 companies, Segars said
ARM reported Q2 revenue of £187.1 million (about $320 million), up 9 percent compared with the same quarter a year before. In dollar terms ARM recorded sales of $309 million up about 17 percent compared with the same quarter a year before. The company made a profit before tax of £94.2 million up 9 percent on 2Q13.
In terms of outlook the company said that market data indicates improving conditions but it gave no quantitative estimates for the third quarter or second half.
Royalties follow licenses
"Our continued strong licensing performance reflects the intent of existing and new customers to base more of their future products on ARM technology. The 41 processor licences signed in Q2 were driven by demand for ARM technology in smart mobile devices, consumer electronics and embedded computing chips for the Internet of Things, and include further licences for ARMv8-A and Mali processor technology. This bodes well for growth in ARM's medium and long-term royalty revenues," said Segars in a prepared statement.
Speaking to analysts Segars made the point that cores designed to the ARMv8 instruction set command a higher royalty percentage than the ARMv7 processor cores such as the Cortex-A7, A12 and A15. Over the long-term the average royalty rate is expected to expand from about 1 percent to about 3 percent of average selling price partly due to an increased per core rate and partly due to the use of multiple cores, although could also by offset by breakpoint discounts for volumes shipped.
The 41 licensees signed in 2Q14 included 7 additional ARMv8-A processor licenses including lead licensees for two forthcoming processor core codenamed Artemis and Maia. A total of 8 Mali processor licenses were sold including licenses for video and display processors and 20 Cortex-M licenses of cores suitable for microcontrollers.
Segars said the move to 20nm manufacturing process technology would probably only happen for relatively few customers with many staying on the more mature 28nm CMOS processes, while some were waiting to jump to a FinFET manufacturing process at 16 or 14nm.
"20nm adoption will be low. Some will stay on 28nm longer and innovate in design. I think we are in a transition period and people are eager to get to FinFET as quickly as possible." Segars made no mention of the fully-depleted silicon-on-insulator (FDSOI) process being offered by STMicroelectronics and Samsung as an alternative option to FinFET production.
ARM technology shipped in 2.7 billion units in Q2 up 11 percent year-on-year, as in the previous quarter. The breakdown by application area was 43 percent in mobile, 17 percent in enterprise and networking, 5 percent in domestic consumer and 35 percent classed as general embedded, which includes industrial and automotive sectors.
Related links and articles:
IHS Technology Semiconductor & Components Page
News articles:
ARM's Royalties Dip, Licenses Boom
Google Launches Smart Home IoT Protocol
Cavium Goes 48-core With ARM Server SoC
Samsung Licenses 28nm FDSOI Chip Process from ST
Startup Preps Neural Network Visual Processor for Mobiles