Processor licensor ARM Holdings plc (Cambridge, England) saw royalties rise in the third quarter but both royalties and the company's quarterly revenue of $320 million missed analysts' consensus forecast. Nonetheless ARM was bullish about the fourth quarter when it expects to hit $350 million in sales and the company also expects a royalty jump in 2015 based on 64-bit penetration in smartphones.
The ARMv8 architecture was only responsible 1 percent of ARM unit shipments in Q3 but numerous companies have designed multi-core implementations based on ARMv8, including Apple, and 64-bit sales are expected to quickly come to dominate the smartphone sector.
In Q3 3 billion ARM-based chips were shipped, up 19 percent year-on-year and about 1 billion of those were microcontrollers up 55 percent year-on-year, CEO Simon Segars told an analysts' conference call. The strong growth of ARM-based MCUs does tend to drag down the per-chip royalty as royalty is levied as a percentage of selling price.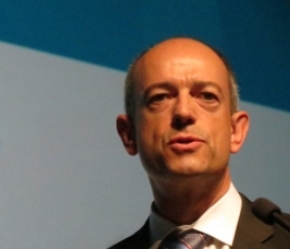 Simon Segars, CEO of ARM.
ARM's sales revenue for Q3 was up 12 percent year-on-year in dollar terms and up 6 percent in pounds sterling supported by processor licensing revenue up 13 percent year-on-year and processor royalties up 11 percent year-on-year, both in dollar terms. The total technology royalties were reported as $150.2 million up 9 percent year-on-year but in sterling terms the royalties of £90.4 million were only up 2 percent.
Q3 and all's well
"Q3 has seen accelerating royalty revenue growth and strong demand for our processors and physical IP," CEO Simon Segars said, in a statement. "We have seen encouraging license momentum and design activity throughout our customer base, with more partners choosing to deploy ARMv8-A architecture in multiple end markets."
ARM's analysis was that a previously discussed inventory correction in the smartphone market in the first half of the year is over and that royalty growth has returned in the second half of the year. An alternative analysis is that some smartphone production and sales were inhibited as the market waited for the launch of the Apple iPhone6 and technologies such as LTE.
"ARM enters the final quarter of 2014 with a robust opportunity pipeline that points to both strong license revenues in Q4 and a sequential increase in order backlog. With market data underpinning the short-term outlook for royalty revenues, we expect group dollar revenues for the fourth quarter to be in-line with market expectations of about $350 million," said Segars.
ARM continued to make numerous license deals; 43 in total in the quarter which compares with 41 in the previous quarter. Of those 43, some 7 were for ARMv8-A, four were for the ARM graphics architecture Mali and 5 were in the form of POP licenses, which are used to optimize ARM cores against performance, power and die area.
During 2013 some 400 million chips were shipped that incorporated Mali GPUs and ARM took market share from its processor licensing rival Imagination Technologies Group plc. ARM has not provided an estimate for Mali shipments in 2014 but Segars told an analysts' conference call: "I think there is scope for further market share gain in graphics."
Displacing x86
ARM is also seeing progress in server and storage processors although the pace of change there is slow. During the quarter PayPal announced that it was evaluating ARM-based servers from Hewlett Packard to deliver its online payment business which the company took to be indicative of pending success in the server and storage market.
However, there is a risk that x86 dominance in the server market could persist much as it has in the laptop computer market. Although ARM has been touted as suitable for use in laptop PCs, with the exception of the Google Chromebook, ARM has failed to gain design wins.
When asked about this Segars said: "There is nothing to stop the creation of [ARM] chips that compete in mainstream computing. There is no issue about performance. Chromebooks based on ARM give great user experience Users don't complain about the performance of their [ARM-based] tablets."
Segars said that it may be the lack of laptop market growth that is persuading ARM customers and their customers to focus on other markets. "The laptop growth rate will get the market back where they were in 2011."
When asked if there are any software issues that are preventing the adoption of ARM for Windows 10 or Mac OS Segars said that is a question that should be addressed to Microsoft or Apple but that previous ports of Windows to ARM showed it was a "tractable problem."
Related links and articles:
IHS semiconductor value chain research
News articles:
Strong Licensing Drives ARM's Q2 Results
ARM Offers Free OS for Internet of Things
China's HiSilicon First on TSMC FinFET Process