ARM Holdings plc (Cambridge, England) reported strong third quarter revenue and profit driven by an exceptionally high number of core licensing deals.
ARM reported a net profit of £48.5 million (about $78.3 million) on sales of £184.0 million (about $290 million), a 26 percent year-on-year increase in dollar terms.
The closing of licensing deals can be "lumpy," but the third quarter was exceptional in that ARM signed 48 license agreements, compared to a typical quarterly run rate of 25 to 30 licenses. As a result, processor division licensing revenue increased 52 percent year-over-year, while processor royalties increased by 14 percent year-on-year. Nonetheless ARM forecast fourth quarter revenue of about $290 million, approximately flat with the third quarter.
Some 2.5 billion ARM-based units shipped in Q3, up 14 percent year-on-year, while industry shipments overall declined by about 1 percent, ARM said. Shipments of ARM's latest cores, in the Cortex-A and Mali GPU families, were double those of a year ago. However, the average royalty per chip was the same as a year before as the low average selling prices for expanding sales of microcontrollers impacted the average royalty.
"In the third quarter of 2013 we saw strong demand for our processor technology with a record 48 licenses signed by 24 companies, 11 of whom were licensing ARM technology for the first time," said Simon Segars, CEO of ARM, in a statement. "ARM's technology was licensed for an extensive range of end-markets including the Internet-of-Things, wired and wireless communications, and mobile computing."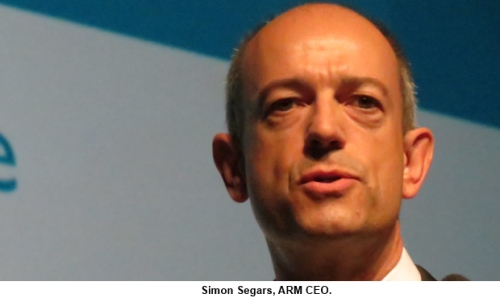 Related stories: