The market for sensor hub ICs that take over processing functions related to multiple sensors from main application processors is booming being led by Atmel, Qualcomm and NXP Semiconductors, according to IHS Technology. Atmel captured 32 percent of the market, Qualcomm 29 percent and NXP 24 percent.
Other noteworthy suppliers included: Texas Instruments, Rohm Semiconductor, STMicroelectronics, InvenSense and Nvidia, according to the market research organization, which is also the publisher of Electronics 360.
Shipments are set to more than double in 2014 to reach 658.4 million units, up from 259.6 million units in 2013, The market is expected to double again by 2017 with an annual shipment level of 1.3 billion units, IHS forecasts.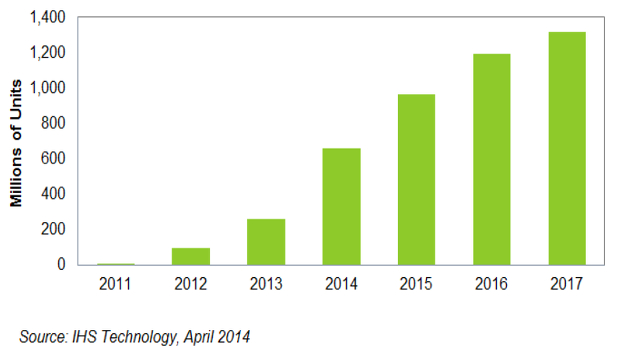 Global sensor hub shipment forecast (millions of units). Source IHS Technology, April 2014.
Most sensor data processing in contemporary systems is performed in software running on the application processor, but this approach is too power hungry when sensor processing must continuously run in the background. With rising use by handsets and tablets of sensors—not just motion sensors but also microphones and light sensors—the need for a low-power solution becomes crucial.
"The use of sensor hubs is increasingly crucial because of the push for 'always on' sensors used for activity monitoring, voice-command operation and contextual awareness," said Marwan Boustany, senior analyst for MEMS & sensors at HIS and author of the report "Motion Sensors Report - Handsets and Tablets – 2014."
Three approaches are being taken to the provision of sensor hubs according to the report. One approach employs an external hub, typically a dedicated microcontroller (MCU), as offered by chipmakers such as Atmel, STMicroelectronics, Texas Instruments and NXP Semiconductor. Recent smartphones that use this approach include the Apple iPhone 5s, Samsung Galaxy S5 and the Motorola Moto X.
A second method utilizes a low-power sensor hub as a low-power core that is part of the application processor, offered by Qualcomm, Intel and Nvidia. In future the Samsung Exynos range and MediaTek and HiSilicon are expected to follow this route. This approach reduces component count but makes the application processor more complex and cannot compete with the low power delivered by MCUs for now. The integrated approach will overtake the MCU approach in the market after 2016, IHS analysis shows.
A third way for implementing sensor hubs is to integrate the hub logic, typically an MCU, with a cluster of sensors, typically an accelerometer and gyroscope. The accelerometer and gyroscope are the most common sensor combination, allowing for various levels of activity and motion tracking, ranging from step counting to more detailed motion tracking and contextual awareness. InvenSense and STMicroelectronics are currently the main proponents of this approach, with Bosch, Freescale Semiconductor and Kionix also offering similar products.
An FPGA-based approach could provide a very low-power solution by offering logic precisely tailored to the sensor-fusion with the advantage of allowing customization. A fifth alternative is a GPS-chip sensor hub that offers location- and tracking-related functions in addition to motion sensing. Both these formats are expected to occupy niches over the next four years and low volumes compared to the three other more mainstream sensor hub formats.
The MCU approach is set to achieve the highest volume while the integrated in application processor approach will make its way in to mid- to high-end range handsets either by itself or in combination with one of the other approaches as part of a layered solution that can be enabled in software as part of the product differentiation.
Related links and articles:
Motion Sensors Report - Handsets and Tablets – 2014
News articles:
Exclusive Video Teardown: Samsung Galaxy S5
Startup Claims Wireless Chip Cuts Power 1000-Fold
MEMS and Sensors: Big Bucks From Little Devices
Apple and Samsung Are Top Buyers of MEMS Motion Sensors in Handsets and Tablets