Wearable tech has largely been enabled by multisensor combo packages and low-power wireless chips that support their requirements. This combination has enabled the creativity of product developers, leading to the $7 billion wearables market that we know today.
The next wave of innovation will involve increasingly efficient, low power displays, stretchable electronics and even energy harvesting to extend battery life as more functionality is incorporated into any given device. The majority of this next wave of wearables will gravitate toward headwear and wrist-worn computing, but the field will remain diverse with other products that support more than social, gaming and infotainment applications—and a significant share will provide health monitoring. Just a few of the medical applications include continuous glucose monitoring, ECG monitoring and patches for drug delivery.
Then there is the emergence of new implantable devices that will expand the market beyond hearing aids and pacemakers with controllable medication disbursement, decreasing treatment side effects and improving patient outcomes. Within the next six to 10 years we will likely see the realization of these implantable microsystems, along with the further miniaturization of displays in the form of contact lenses which will not only generate an image, but serve a medical purpose as well such as treating glaucoma or improving eyesight.
However, before the market even reaches its 10-year potential, IHS forecasts that wearable tech will become a $30 billion industry.
Wearable tech today and tomorrow
Today, the wearable tech world is primarily comprised of performance monitors, such as wrist-worn sports computers, heart rate monitors and activity monitors, as well as hearing aids and Bluetooth headsets. Sales of these devices are forecast to continue growing, and there is no sign that demand for high profile fitness monitors such as Nike FuelBand, Fitbit, Adidas miCoach or Jawbone is slowing.
However, the next surge in uptake will come from devices supporting social and infotainment functionality followed quickly by health, wellness and medical applications. These devices include smart glasses, smart watches, continuous glucose monitors, drug delivery systems, heart rate monitors and smart clothing.
From the MEMS perspective, IHS expects these devices to push wearable tech within the top 10 consumer and mobile revenue drivers for sensors at nearly $200 million in 2017. This category will be topped only by established consumer electronics including the handset, tablet, laptop and camera categories.
Our consumer-based research also shows positive signs for the future of wearables, with over 60 percent of survey respondents stating that they were interested in acquiring dedicated devices to enhance the functionality of their apps (these interviewees all made use of smartphones for activity monitoring currently).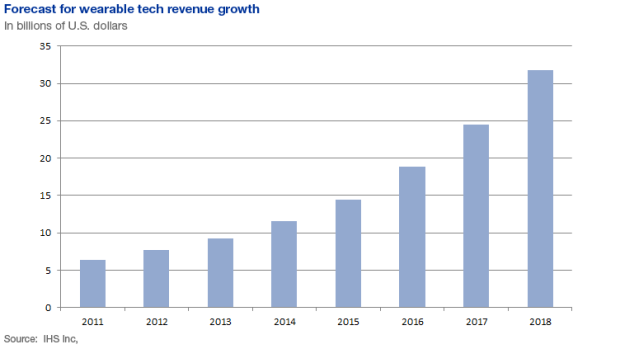 Mobile apps
Mobile apps are going to be a significant demand driver for wearable tech in the future. Currently, the top names for sports and fitness apps include Runtastic, Azumio, Runkeeper, Endomondo, MayMyFitness and Nike+. But soon WebMD will enter the monitoring space as well, with the introduction of Healthy Living Connect.
During the Qualcomm Connect 2013 conference in August, Bill Pence, WebMD's executive vice president and chief technology officer, noted that WebMD was interested in developing strategies that would scale, and that this transition of their 18 million app users to Healthy Living Connect would continue to provide that scale. Important to the wearables market, WebMD's new platform will feature a device store with Qualcomm 2net credentialed monitoring devices, which will eventually be integrated into the platform.
The goal of the new app is to provide personalized content in addition to refreshing content every 90 days to increase audience engagement and move beyond episodic usage. Beta functionality is being introduced which will facilitate physician and patient connectivity. This may prove to be another step in the development of telehealth, as 51 percent of U.S. physicians are already accessing WebMD every 90 days.
Brian Niznik, senior director of business development at Qualcomm, added that the relationship will be server to server in the near future, but that a "sensor kit" and 2net hub will be made available as a package, enabling physicians to eventually provide prescriptions for the system.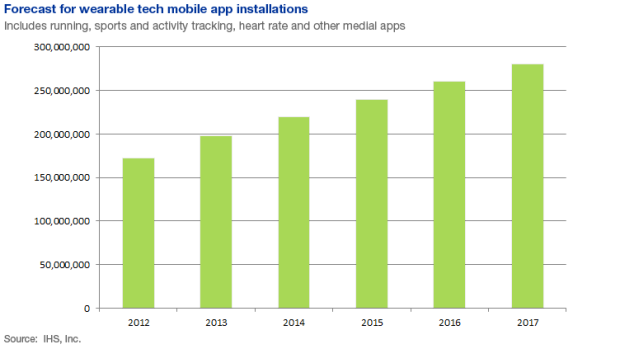 Remote patient monitoring, consumer medical devices and Big Data
Telehealth services are currently forecast to serve 5 million patients worldwide through 2017, and consumer medical devices are forecast to exceed OEM sales of $10 billion during the same year.
These gateways and peripherals are currently supplied and managed by the provider, or a third party service, and IHS expects growth in this remote patient monitoring to continue. However, there is also a trend developing toward bridging the patient-provider gap when it comes to patient-collected data from consumer devices.
Recent developments to note include the Kaiser Interchange platform, Health-e-Heart initiative from UCSF, Partners HealthCare Center for Connected Health, the Louisville Asthma Data Innovation Project (Asthmopolis and Norton Healthcare), Omron WellnessLink, American Heart Association (Heart360, My Life Check), WebMD, and GNS Healthcare/Aetna. These initiatives signify a step forward in the utilization of patient-collected data for clinical purposes, including EMR integration, improved population management, predictive allocation of resources and coordination of care.
Eventually this data collection will include other factors such as temperature, weather changes, pollen count and CO2 levels, thus enabling real-time mapping of environmental conditions that may impact health conditions.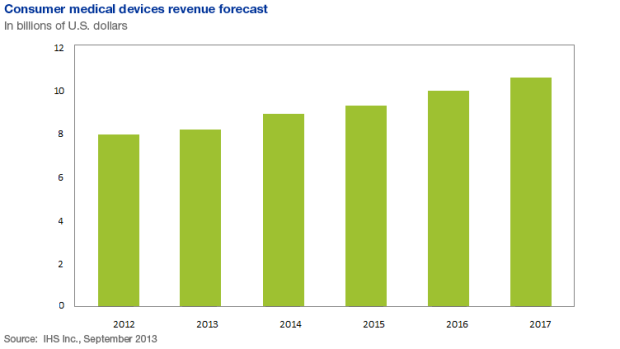 For more on these topics:
Related stories: