The era of wearable computing may have entered a new phase last week when both Samsung Electronics and Qualcomm beat Apple to the punch by unveiling smart watches. But the wrist is just one part of the human body getting new high-tech accessories in a wave of new wearable computing devices coming down the pike.
While the headlines are dominated by the wearable computing offerings of big companies like Apple, Google, Samsung and Qualcomm, a number of compelling devices are being developed by lesser known firms. A sampling of other wearable computers already on the market or in development include those capable of restoring sight to the blind, creating augmented reality where 3-D virtual objects can be manipulated by hand and sensing and reporting biometrics as we exercise, to name just a few applications.
As computing becomes smaller and closer to the body—from mainframes to PCs to laptops to smartphones—the public is becoming more and more comfortable with new and mind-boggling technologies that are being enabled by miniaturization, increased processing power and batteries capable of energizing such technologies. According to IHS, wearable technology will be a $30 billion market within 10 years.
"People like the folks at Google (which is poised to launch its Google Glass) and elsewhere are truly thinking outside the box about what can be done with wearable computing. These are applications that normal people like us can't even anticipate that will be satisfied and become extremely compelling in the next five years," says Brian Mech, vice president of business development at Sylmar, Calif.-based Second Sight Medical Products.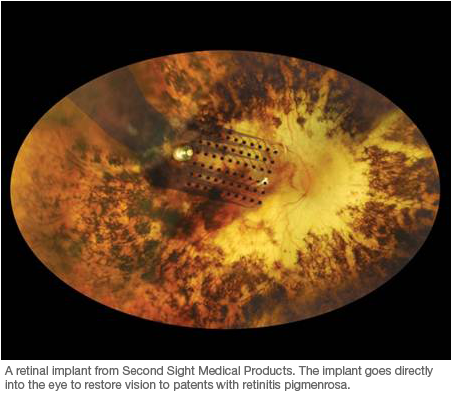 One excellent example of these futuristic applications is at Mech's company, which is the developer of the Argus II retinal prosthesis system that partially restores sight to patients with severe cases of the inherited disease retinitis pigmentosa. Expected to be launched in the U.S. in the next month or two, the device consists of three parts [see video]:
The implant, which goes in the eye.
The glasses, modified Oakleys with a tiny auto-focus video camera in the bridge of the nose and, on one of the arms, a circular disk about the size of a silver dollar that houses an antenna that wirelessly communicates with the implant.
The visual processing unit (VPU), a computer about the size of a deck of cards worn outside the body that takes the image from the video camera, processes it, and sends it to the implant where it is converted into instructions that result in electrical stimulation of the retina.
In clinical trials, 100 percent of the patients were able to see the black-and-white images, although the amount of visual resolution they received varied from patient to patient. While the system currently only restores sight for one eye, it is expected that it will eventually be used bilaterally.
But the developers' current challenge has nothing to do with technology. While Medicare recently agreed to cover the cost of the $100,000-plus device—which might have been financially out-of-reach for the majority of patients—Second Sight is still working to convince private insurance companies to do the same.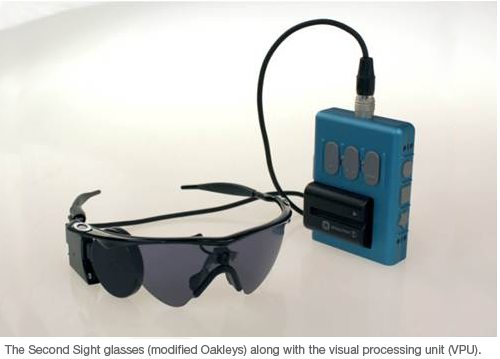 The next step is to make improvements in the external hardware—make the VPU run faster, upgrade the processing power speed and improve the camera. Within four to six years, the developers hope to come out with a next-generation implant with more electrodes to increase the spatial resolution. Longer-term, the goal is to start a cortical stimulation project where, instead of stimulating the retina as they do now, the site of stimulation will move into the visual cortex of the brain itself. That is expected to restore sight to patients with all forms of blindness.
Meanwhile, another startup, Meta, expects to deliver by year-end its Meta.01 augmented-reality glasses. These glasses allow wearers to interact with virtual 3-D objects in space by using their hands and then register them onto real-world objects [see video].
For example:
Surgeons can place virtual MRIs or CAT scans on the patients on which they are operating—and rotate them or zoom in or out with their hands—without fear of infecting the patients.
Architects can digitize the model-building process and then share the digital models with other architects so a building can be designed collaboratively.
An artist can create a virtual sculpture and then place it into a real 3-D printer which turns the dream into a reality.
The Meta.01 glasses, currently pre-offered at $667, feature a pair of 3-D screens developed by Epson that provide a 23-degree field of view for each eye and produce a virtual screen much larger than that offered by Google Glass.
Meta founder and CEO Meron Gribetz distinguishes between two types of computer-wearable glasses, one being the "notification machine" such as Google Glass, the other being the "natural machine" such as the Meta.01.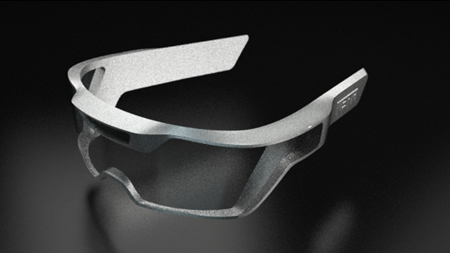 "The former employs low-CPU, low-GPU, a few sensors, and a small screen in the corner of your eye to give you pop-up notifications about your surroundings, essentially telling you where your next meeting is, how to get there, and when the next train is coming," says Gribetz. "The 'natural machine' uses your natural surroundings—namely the real world with real people in it—as part of your application."
Gribetz adds that the 'natural machine' uses natural controllers—a users' hands—as the input device. He noted that examples of such devices are featured in popular science fiction films including Iron Man, Minority Report, and Avatar.
Gribetz believes that both notification and natural machines will be extremely successful in their respective markets. IHS projects that nearly 10 million smart glasses—including Google Glass and others—will ship between 2012 and 2016.
Another example of early wearable computer technology is, PerformTek a sensor module technology that was developed and is being licensed by Raleigh, N.C.-based Valencell to give wearables—such as earbuds, armbands, and wristbands—the ability to measure biometrics [see video].
"If you're going for a run and listening to music with your favorite headphone—and if that headphone is powered by PerformTek—you can generate assessments of your heart rate, heart rate zone, calories burned, running cadence, respiration rate, energy expenditure, and so on—all by just wearing the earbuds," says Dr. Steven LeBoeuf, co-founder and president of Valencell. "No chest strap or other device is required. It's all built into your headphone."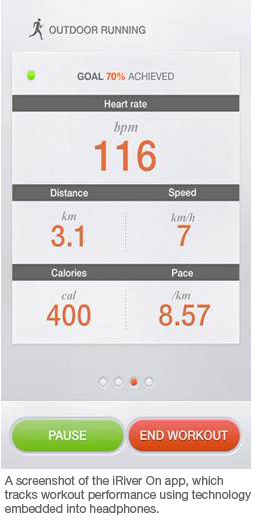 So far, two companies have announced relationships with Valencell—South Korea-based iRiver, whose PerformTek-powered iRiverOn headphone [see video] is now available only in Japan and South Korea, and Oxnard, Calif.-based Scosche Industries, whose next-generating armband will include PerformTek sensors when it is released.
The PerformTek technology has three components:
The opto-mechanical sensor module, which uses an optical emitter, detector and accelerometer to measure activity around the body.
The DSP chip, which processes the data generated by the module and removes all the "noise" created by body movement and surroundings.
The API, which allows licensees to put the sensor elements inside their design and make any app talk to the DSP chip. Data is then transmitted via Bluetooth to the user's smartphone.
Valencell hopes to expand beyond sports licensees to other verticals, including home health monitoring, military, first responders, as well as Google Glass-type applications.
According to Shane Walker, associate director for Consumer and Digital Health Research at IHS, the current $7-billion wearable tech market is primarily comprised of performance monitors—such as wrist-worn sports computers, heart-rate monitors, and activity monitors—as well as hearing aids and connected headsets.
Walker forecasts continued growth for these devices, but predicts a surge coming from new technology, such as smart glasses, smart watches and medical products.
"Just a few of the medical applications beyond pacemakers and hearing aids include continuous glucose monitoring, ECG monitoring, and implantable devices, such as retinal prosthesis and controllable drug-delivery systems designed to decrease side effects while improving patient outcomes," Walker says.
"Within the next several years, we will likely see the realization of new implantable microsystems," adds Walker. "However, before the market even reaches its 10-year potential, IHS forecasts that wearable tech will become a $30 billion industry."