The penetration of gallium-nitride-on-silicon (GaN-on-Si) wafers into the LED market will reach 40 percent by 2020, according to a report from IHS. The market for GaN-on-Si for LEDs is in its incipient stages in 2013, but it is set to experience compound annual growth of 69 percent from 2013 to 2020, according to IHS.
In 2013, 95 percent of GaN LEDs will be manufactured on sapphire wafers, while only 1 percent will be manufactured on silicon wafers. The growth in the manufacturing of GaN-on-Si LEDs between 2013 and 2020 will take market share from both sapphire and silicon carbide wafers.
Sapphire and silicon carbide wafers are typically processed at diameters of 2 inches and 4 inches, although suppliers are claiming to be able to supply 6-inch SiC and up to 200-mm-diameter sapphire wafers.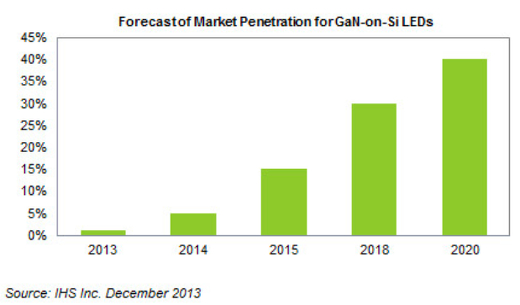 However, costs can be reduced by using standard silicon production tools at 6-inch and 200-mm-diameter wafer sizes and then forming LEDs in GaN material grown as thin top layer. Further cost savings come when it is possible to repurpose silicon wafer fabs to make GaN-on-Si LEDs. This is generally supposed to require minimal investment, although questions remain as to whether the industry will adopt supplied GaN-on-Si wafers or grow GaN layers in-house on lower-cost silicon wafers.
"Manufacturing large ingots made from sapphire is difficult, whereas silicon wafers are available from 8 inches up to 12 inches and are generally cheaper and more abundant," said Dkins Cho, senior analyst for lighting and LEDs at IHS, in a statement. "There is a large pre-existing industry for silicon-based manufacturing that is leveraged to create economies of scale and reduce the cost of an LED."
Cho added: "Many of the CMOS semiconductor manufacturers already have excellent inspection tools, unlike traditional LED companies. This could help increase their process yield through in-situ monitoring. However, it is unlikely the repurposing will happen overnight; instead, we forecast a shift during the coming years."
Plessey Semiconductor Ltd. (Plymouth, England) has been making LEDs in 6-inch-diameter wafers during 2013 while Toshiba is making LEDs on 200-mm-diameter wafers using technology acquired from BridgeLux Inc. in April 2013.
Related links: