Fabless startup Exagan SA (Grenoble, France) has secured the support of X-Fab Silicon Foundries AG (Erfurt, Germany) for the development of gallium nitride (GaN) on silicon power semiconductor technology (GaN-on-Si) and creation of a European manufacturing center.
By producing high voltage parts—650V initially—on 200mm-diameter wafers, the team is expecting to meet market demands for higher performance than silicon at a lower price premium than GaN has required to date.
X-Fab says it plans to establish a European production center, where the two companies will manufacture GaN devices for the solar, industrial, automotive, IT electronics and other markets. X-Fab says that both companies have already processed the first GaN-on-Si devices at X-Fab's wafer fab in Dresden, Germany.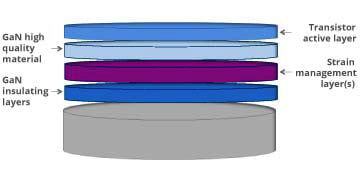 Exagan's G-Stack technology. Source: ExaganExagan claims on its website that its G-FET product family exhibits low conduction and switching losses, enabling high operating frequencies. This in turn will allow developers to develop more efficient systems with higher integration and density.
However, the company has not supplied any quantitative information about its transistors. "We are not releasing a spec sheet on our product yet," says CEO Frédéric Dupont, in an email to Electronics360. "We plan to launch product sampling at the end of this year, based upon our industrial chain. We focus on 650V right now; 1,200V is in our roadmap and in development."
IHS Technology forecasts that the worldwide market for silicon carbide (SiC) and GaN power semiconductors will grow by a factor of 17 over the next 10 years, from $150 million in 2013 to $2.5 billion in 2023. More detail can be found in "The World Market for SiC & GaN Power Semiconductors - 2014 Edition."
Exagan was founded in 2014 by Dupont and Fabrice Letertre, who had previously been senior executives at Soitec, a global leader in advanced materials. Exagan is working to apply advanced material technology from Soitec as well as GaN device technology from French government-backed research institute CEA-Leti.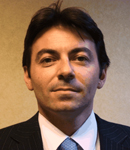 Fabrice Letertre, COO of ExaganPower transistors that can withstand 650V and 1,200V—the G-FET family—are being developed at Exagan using G-Stack technology. G-Stack uses multiple layers to buffer the different dimensions of the crystal lattices of GaN and silicon to create high-quality GaN material on silicon. By enabling this to be done on 200mm-diameter wafers, G-Stack is expected to provide cost advantages over the production of GaN on 4- and 6-inch diameter wafers.
"Our strategic partnership with X-Fab is the latest step in establishing a robust supply chain capable of providing customers with qualified GaN devices in large volumes for demanding applications," says Dupont.
In its SiC and GaN power semiconductors report for 2014, IHS points out that firms have been trying to establish these two materials in key applications for several years now. While as much as 15% of the power semiconductor market could eventually be made up of applications using these technologies, many of are two or three years away from reaching volume production.
These applications could include wireless charging for hybrid and electric vehicles. In the wireless charging of handheld equipment, SiC and GaN power semiconductors are more suited to magnetic-resonance power-transfer applications at the higher frequencies of the Alliance for Wireless Power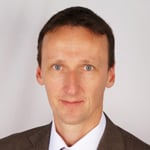 Frederic Dupont, CEO of Exagan.(A4WP) standard. Inductive charging, which operates at lower frequencies, can be adequately addressed by silicon MOSFETs, observes IHS.
The key factor in determining the market growth is how quickly SiC and GaN devices can achieve price parity and equivalent or superior performance with silicon MOSFETs, IGBTs and rectifiers. IHS forecasts that can be achieved by 2020.
Questions or comments on this story? Contact: peter.clarke@ihs.com
Related links and articles:
IHS Power Semiconductor Research
"The World Market for SiC & GaN Power Semiconductors - 2014 Edition."
News articles: