The market for industrial PCs is a difficult one currently; growth is elusive, and many of the traditional industrial markets for these products have been impacted heavily by continuing economic problems. This has driven suppliers into new, higher-growth verticals. The medical market is one such vertical, but will it bring the growth that industrial PC vendors are seeking?
Historically, the industrial PC market has exhibited strong, double-digit growth. However, since 2008 growth has been slower and more erratic. In fact, the IHS quarterly industrial PC market tracker estimates that in 2012 the market declined annually for the first time since 2009, with economic troubles in Europe and slower-than-expected growth in Asia combining to limit sales.
These problems have affected sales to most of the traditional verticals for industrial PCs. However, some verticals have bucked this trend, outperforming the wider market by continuing to grow strongly.
The market for medical electronics has traditionally outperformed the wider economy and continues to do so. Reflecting this, sales of industrial PCs to the medical vertical have grown strongly in recent years. IHS estimates that in 2011 the medical market accounted for nearly 11 percent of industrial PC revenues, growing at a rate of over 20 percent per year in 2010 and 2011.
Sales have been further strengthened by a continuing trend toward increased use of embedded computing in medical applications. Applications such as patient bedside monitors and medical imaging are ideally suited to the highly ruggedized computers (with long life times) that industrial PC suppliers offer.
For example, fanless cooling is a common feature of industrial PCs, making them more suitable for environments where hygiene is important, as fans can collect and spread dust and dirt. Industrial computers also have to be much more reliable than consumer products; in industrial applications a computer crash on a key system could lead to production delays and safety concerns. In the medical market reliability is also an important concern, as computer problems could impact patient well-being.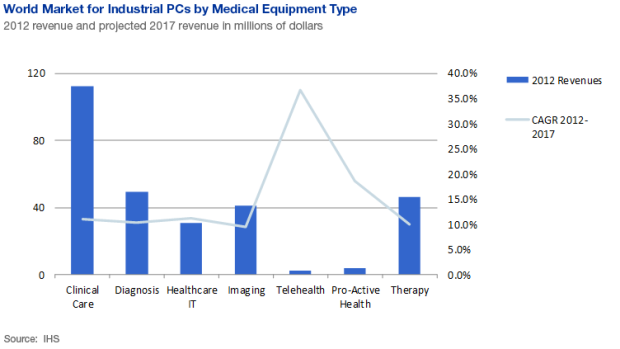 However, the medical market is not immune to the world's economic problems. Growth in this sector is being limited as medical suppliers try to contain costs or cut expenditure as part of austerity programs. Upgrades to expensive electronic equipment are often one of the first things to be cut or delayed. Medical electronics already generally have quite long lifetimes. Delaying planned purchases of replacement equipment for a year or two is perfectly acceptable when some types of equipment have lifespans of over 20 years. This decline in investment is forecast to limit growth in the medical applications that have, in recent years, been such a reliable source of growth.
With growth in these applications slowing, enterprising industrial PC suppliers will have to adapt their products to new, emerging medical applications.
Efforts by medical care providers to limit or cut expenditure are likely to drive investment in areas such as preventative treatment to limit future costs. After all, if fewer people fall ill, fewer people will need to have money spent on their treatment.
Already, some medical insurance companies are offering lower premiums to people who live healthily, such as those who exercise regularly. The logical conclusion of this approach will be more investment in not only the equipment to keep people healthy, but also equipment to monitor people's health. Health problems, when caught early, are often far easier and less expensive to treat than when they are left undiagnosed for years. This would also have the added bonus of allowing insurance companies to monitor policyholders more closely to make sure they are living as healthily as their insurance premium specifies.
This is likely to change the face of the medical market for industrial PCs. Traditional hospital applications will become less important as proactive applications become more popular. As the market changes, industrial PC suppliers will have to change with it, developing products to meet the demands of new applications. While growth in the medical market may be lower than what has been seen historically, new applications will present new opportunities for higher growth in the coming years.
Related stories: