China's industrial-robot market is set for strong expansion by the end of 2013 and beyond, mainly propelled by demand for mechanical alternatives in China, according to a new report entitled The Chinese Market for Industrial Robots—2013 from IHS Inc.
Total revenue for the Chinese market for industrial robots is estimated to have been $810.4 million in 2012. IHS predicts it will grow with a CAGR of 10 percent from 2012 to 2017, to $1.3 billion.
After the global recession in 2009, the Chinese market for industrial robots grew because of the increased availability of investment for manufacturing facilities, most notably in the automotive industry. Recently, investment in robots was because of rising labor costs, increased concerns for safety, transforming and upgrading enterprises, technological advances, increasing demand for high-end quality products, as well as decreasing application costs.
The automotive industry was the largest market for industrial robots, accounting for 41.3 percent of total revenues (excluding cylindrical robots) in 2012, and is projected to remain so from 2013 to 2017, accounting for 34.2 percent of total revenues in 2017. Because of the slowdown of investment in the industry, the size of the industry and automotive-market saturation, industrial-robot revenues from this sector are forecast to grow more slowly than those from other sectors, with a CAGR of 5.6 percent from 2012 to 2017.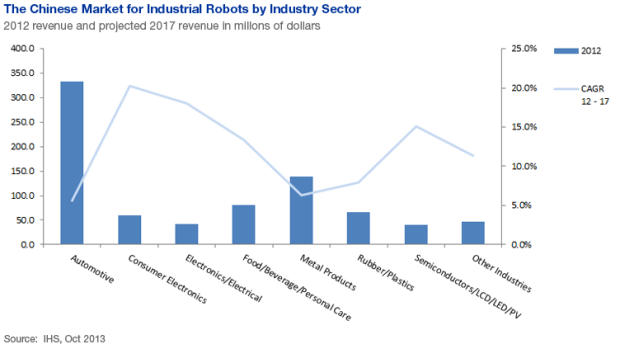 As the picture shows, the automotive industry is the main driver of the Chinese industrial-robot market. Industrial-robot suppliers should find a way to compensate for the loss from automotive industry; fortunately, other industries are showing great opportunities.
The consumer electronics and electronics/electrical industries are labour-intensive. The markets in these industries are predicted to grow the fastest (CAGRs of 20.2 percent and 18.0 percent, respectively from 2012 to 2017) because of the increasing necessity to automate processes.
The food/beverage/personal care industry is also labour intensive. Robots in this sector have typically been used for palletising. The food/beverage/personal care industry has strict health & safety regulations. Food/beverage plants have been using parallel robots for handling goods quickly. The market for parallel robots used for packaging in the food/beverage industry is therefore going to be an area of high growth. In the food industry, the focus is on speed rather than precision. Of all of the industries, the food industry is the most immune to economic uncertainty as food will always be required. Many robot manufacturers are actively targeting food manufacturers because of their need for automation.
Because of the rapid growth of the industrial-robot market, there are many new domestic and international entrants that can provide industrial robots, especially six-axis articulated robots. However, it seems that a price war is underway; companies cannot continue to just manufacture robots because of the high cost of components, low profit, and competition from major international suppliers.
Industrial robots cannot be used without programming and debugging, therefore specialist knowledge is important. The major international suppliers are familiar with the automotive industry; they do not have the specialist knowledge for other industries. New entrants need to find a niche market that major international suppliers neglect and offer the total solution at a low cost.