Volkswagen Group (VW) is accelerating its transition to electrification with developments and investments to expand its e-mobility presence to all corners of the globe.
Specifically, Volkswagen's moves include:
In 2022, the company increased global sales of all-electric vehicles (EVs) by 23.6% to around 330,000 units.
By 2030, up to eight out of 10 cars sold in Europe will be battery electric vehicles (BEVs).
The BEV share is to grow likewise in North America, with a target of 55% by 2030.
VW will launch 10 new BEV models by 2026, including an all-electric car for under $25,000.
Four new electric models are coming soon: The second-generation ID.3 and the sporty ID.3 GTX, the long-wheelbase ID.Buzz and the flagship ID.7.
The company will invest $5 billion in North America and $1 billion in South America to kick-start electrification efforts.
The company will build a gigafactory in St. Thomas, Ontario, Canada, with production slated for 2027.
"In the past year, we successfully steered Volkswagen through difficult operational waters while at the same time doing our homework at strategic level," said Thomas Schäfer, CEO of VW. "The company is well positioned for the decade of transformation and we are implementing our strategy swiftly and consistently."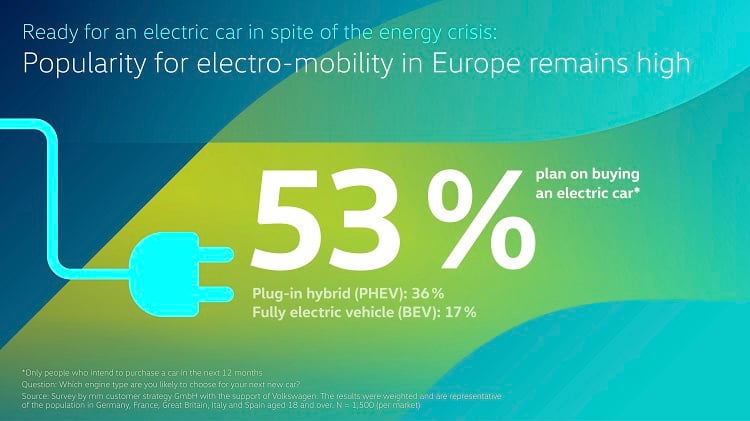 Source: Volkswagen
Gigafactory
The factory in Canada will be VW's first battery cell plant in North America and will produce sustainable unified cells for its fleet of BEVs.
VW said the decision to expand its battery company PowerCo's presence from Europe to Canada is part of its growth strategy for North America.
"Our gigafactory in Canada sends a strong message: PowerCo is on track to become a global battery player," said Thomas Schmall, chairman of the supervisory board of PowerCo and board member of VW. "With the expansion to North America, we will enter a key market for e-mobility and battery cell production, driving forward our global battery strategy at full speed."
This will be the third VW owned battery plant and this plant will specifically provide battery cells for VW's fleet of BEVs and is part of a larger plan that was agreed upon with the Canadian government for battery value creation and raw material security.
As part of the push to build EV infrastructure in North America, VW is expanding its relationship with charging vendor Electrify America to build a coast-to-coast charging network in the U.S. and Canada. This network will include 800 stations with 3,500 DC fast chargers powered by 100% renewable energy. By 2026, VW and Electrify America plan to double this number of chargers.