A drastically improved view and understanding of the solid electrolyte interphase (SEI) dynamics of lithium-ion batteries is now possible with a new microscope system designed by researchers from the University of Houston, U.S. Pacific Northwest National Laboratory and the U.S. Army Research Laboratory.
In a study published in Nature Nanotechnology, the researchers report achieving real-time visualization of SEI dynamics by use of the operando reflection interference microscope (RIM), which provides real-time imaging of the formation and evolution of the battery electrode surface layer. The imaging data documented can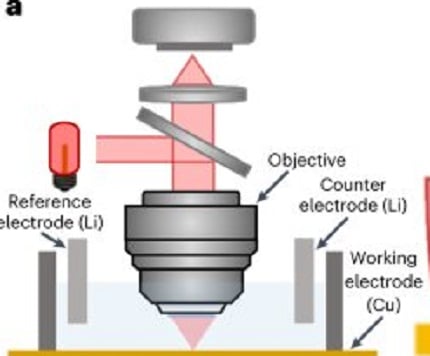 RIM allows researchers a better inside view into how batteries work. Source: Nature Nanotechnology (2023). DOI: 10.1038/s41565-023-01316-3 provide critical insight into the working mechanism of the SEI layer and be applied in the design of higher-performance batteries.
In the RIM system, the light beam is centered at 600 nm with spectrum width of about 10 nm, directed toward battery electrodes and SEI layers, and reflected. The observed optical intensity contains interference signals between different layers, denoting information about SEI changes to the evolution process of SEI and enabling documentation of the entire reaction process.
"We have now demonstrated that RIM is the first of its kind to provide critical insight into the working mechanism of the SEI layer and help design better high-performance batteries," said the researchers.