Acromag has released two new Ethernet remote output modules as part of its Busworks NT series.
The NT2300 units are modular Ethernet I/O modules designed for use in industrial applications. They provide 16-bit D/A to precisely control analog current or voltage output signals, with the NT2310 offering a selectable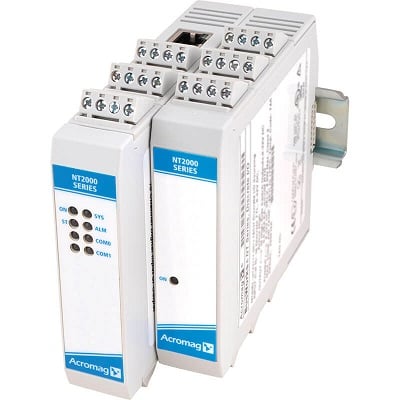 Source: Acromag 0 mA to 20 mA or 4 mA to 20 mA output range and the NT2320 offering ±5V, ±10V, 0 V to 5 V, or 0 V to 10 V voltage output levels.
The NTE modules have dual RJ45 ports and a web server and can communicate using Modbus TCP/IP or EtherNet/IPTM protocols, which are field-selectable using a web browser. They also have an integrated DIN rail bus that allows up to three NTX expansion I/O modules to be connected and a compact design that requires only 25 mm of DIN rail per module. They are suitable for use in harsh environments and have hazardous location approvals, high noise immunity, and a temperature range of -40° C to 70° C. The modules can function as a network client or use Acromag's i2o peer-to-peer communication technology to transfer data directly between modules without the need for a host or server. They also have multicast capability and support conditional logic.