Acromag's newest addition to the Busworks NT series of expandable remote Ethernet I/O modules is the NT2620 series resistance temperature detector (RTD)/resistance module. Designed to be a cost-effective modular solution, it supports four RTD/resistance inputs and two bidirectional discrete digital I/O channels to monitor temperature limits with conditional logic.
NTE Ethernet I/O models have dual RJ45 ports and a webserver with Modbus TCP/IP or EtherNet/IPTM communication to monitor or control the internal I/O channels.
The Modbus TCP/IP or EtherNet/IPTM communication is field-selectable saving costs of additional modules.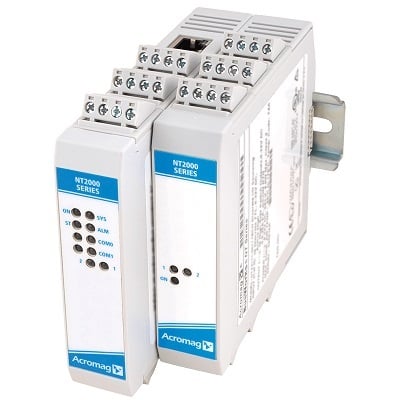 Source: Acromag An integrated DIN rail bus allows connection of up to three NTX expansion I/O modules. The space-saving design requires only 25 mm of DIN rail per module. Ethernet I/O modules distribute 9 V DC to 32 V DC power along the DIN rail bus to expansion modules.
Hazardous location approvals, high noise immunity, and -40° C to 70° C operation make this I/O ideal for use in harsh environments.
Profinet communication is planned for release soon. Each module will support all three protocols, which are selectable using any web browser to configure the network settings and I/O operation. The modules typically function as a network slave, but also offer Acromag's i2o peer-to-peer communication technology to transfer data between modules directly without a host or master in between. Multicast capability is included.