Acromag's new BusWorks NT series remote I/O modules are now UL Listed for Class 1 Division 2 Groups A, B, C, D hazardous locations with volatile substances in the U.S. and Canada. This certification permits the use of the BusWorks NT series remote I/O modules in environments with flammable liquids, gases or vapors. The Class I Div 2 certification is often required for electronics deployed in chemical, oil, gas, mining and other manufacturing facilities.
With the higher safety rating, the Ethernet modules can be installed closer to sensors and actuators to reduce installation costs for monitoring and control of automated machinery.
The Ethernet modules have also passed testing for the European ATEX and IECEx Zone 2 safety certification that is widely accepted in many countries globally for explosive atmospheres.
NTE Ethernet I/O models have dual RJ45 ports and a webserver with Modbus TCP/IP and Ethernet/IP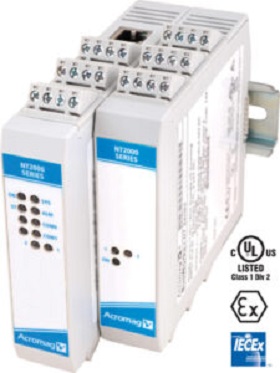 Source: Acromag communication to monitor or control the internal I/O channels. An integrated DIN rail bus allows connections of up to three NTX expansion I/O modules. Each I/O module adds up to 16 input or output signals allowing a mix of voltage, current, temperature, TTL, and relay control signals networked on one IP address.
The space-saving design requires only 25 mm of DIN rail per module. Ethernet I/O modules distribute 9-32 V DC power along the DIN rail bus to expansion modules. Hazardous location approvals, high noise immunity, and -40° C to 70° C operation make this ideal for use in harsh environments.
The NT2000 Series offers a broad variety of I/O signal processing options. Nine I/O configurations are available as either NTE Ethernet I/O or NTX expansion I/O models. Analog I/O models feature eight differential or sixteen single-ended inputs for monitoring current or voltage signals.
Discrete I/O models provide 16 tandem input/output channels with either active high/low input and sinking/sourcing output. A six-channel mechanical relay output model is also available. For temperature monitoring, a thermocouple input model supports many sensor types and also millivolt ranges. More models will release over the coming months for additional I/O functions.
Profinet communication is planned for release soon. Each module will support all three protocols that are selectable using any web browser to configure the network settings and I/O operation. The modules typically function as a network slave, but also offer Acromag's i2o peer-to-peer communication technology to transfer data between modules directly without a host or master in between. Multicast capability is included.