Newark is shipping the new-to-market WXsmart, an all-in-one smart hand-soldering platform from Weller. A first of its kind solution, the WXsmart is designed to reduce downtime and increase productivity for all soldering, repair and rework applications.
The new WXsmart is the first hand-soldering station to bring smart productivity, connectivity, security and intelligent features in a space and energy saving design to the industry. The integrated all-in-one station acts as the brain of a workbench by consolidating all soldering applications with intelligent soldering tips and tools. WXsmart supports all internet of things (IoT) standards for full traceability with mobile-enabled remote-control access.
Global production is growing exponentially, especially within the electronics, medical and aerospace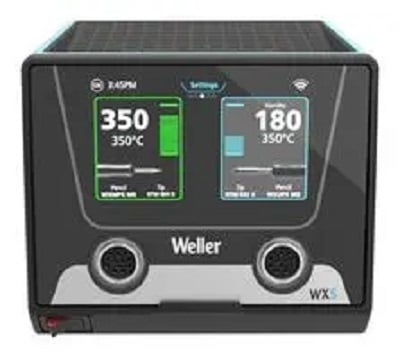 Source: Newark industries as components become more powerful. Weller is meeting this demand with a new generation of Smart Tips that include an integrated chip in every soldering tip, providing new added-value features to operators.
These chips enhance the Weller soldering tip to offer greater precision and improve the collection of traceable data, such as using the soldering iron, temperature excursions and operation time by individual users. Lock functions make soldering processes repeatable and transparent.
Key features of Weller's WXsmart all-in-one smart hand-soldering platform, now available for fast delivery from Newark, include:
Process control — The locked parameter functions on tip allow users to achieve full process control and prevent defaults during the soldering process.
Integrated data storage with built-in connectivity — Each smart soldering tip has integrated data storage with a unique individual serial number for full traceability and calibration history. This enables the built-in total process control (TPC) intelligence to manage the complete soldering process from tip to station. The data gathered is not natively stored in the cloud. Instead, the platform enables customers to securely collect, store and use data to suit their application needs.
Accurate data results with tip-offset function — The reference point of the sensor can be changed easily using the 'Tip Offset' function. This enables operators to efficiently achieve results with the highest degree of accuracy.
Maximum precision and protection — The short tip-to-grip distance and optimized shape provide maximum precision during the soldering process. The RTUS smart soldering tips comply with MIL-SPEC and IPC industry standards (IPC — TM-650 2.5.33 Measurement of Electrical Overstress from Soldering Hand Tools). This provides maximum protection to the printed circuit board and components, achieving excellent results while keeping operating costs low.
High compatibility — The platform can be used with the WXUPS MS Smart Soldering Iron and WXsmart Soldering Station, which automatically identifies each patented Weller RTUS cartridge tip. The RTUS smart cartridge tips can also be changed quickly, safely and efficiently without additional tools.
Weller's WXsmart all-in-one smart hand soldering platform is available from stock at Farnell in Europe, the Middle East and Africa, Newark in North America and Element14 in the Asia-Pacific region.