At DesignCon 2023, Rohde & Schwarz will showcase live demos covering the latest industry trends and invites attendees to test their knowledge at the interactive "Are you a genius?" Digital Debug Design challenge.
This year at DesignCon 2023, Rohde & Schwarz is bringing a new way to experience and demonstrate solutions for high-speed digital applications. At the company's booth (#1049), attendees can put their design knowledge to the test with the Rohde & Schwarz Digital Debug Design challenge. The challenge takes place in 30-minute intervals during the DesignCon exhibit hours and will incorporate a series of lab challenges that evaluate attendee's measurement skills in signal integrity, power integrity and electromagnetic interference debug.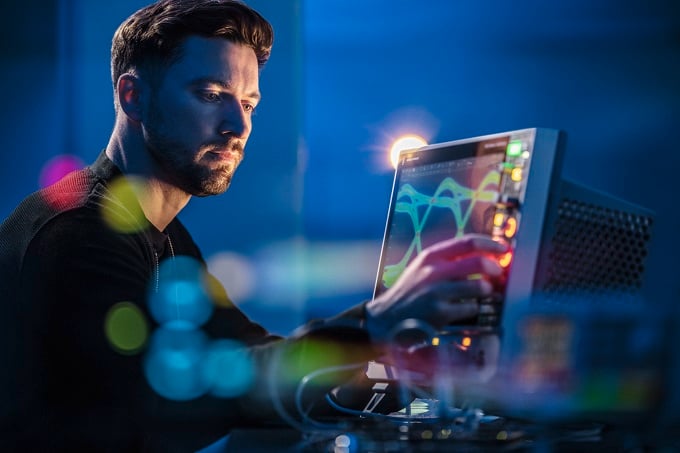 High speed digital solutions are available for demonstration at DesignCon 2023. Source: Rohde & Schwarz
In addition to the Digital Debug Design challenge, Rohde & Schwarz will be highlighting multiple demonstrations at the company's booth. These include a 112 Gbps PAM4 copper channel analysis using the R&S ZNA high-end vector network analyzer (VNA). Another setup will feature the R&S ZNB VNA performing multilane compliance automation using R&S ZNrun VNA automation suite. And the R&S FSWP phase noise analyzer will be carrying out jitter and phase noise measurements.
Rohde & Schwarz will exhibit at DesignCon in booth 1049 at Santa Clara, California, Convention Center on February 1 through February 2, 2023. Open to all trade show attendees, Rohde & Schwarz is sponsoring a day of complimentary technical seminars hosted by Rohde & Schwarz specialists and industry experts. Beginning at 8 AM on February 1 in the Great America Meeting Room 2, the technical seminars will cover topics such as 112 Gbps PAM4 front panel connectivity, mastering phase noise/jitter measurements, far-end crosstalk in high-speed PCB channels and more.
Attendees interested in the technical seminars can register in advance on the Rohde & Schwarz DesignCon workshop landing page. For those unable to attend DesignCon 2023, all technical seminars will be available online following the event.