After experiencing record revenues and growth over the last two years, semiconductor foundries are forecast to drop by 4% year-over-year in 2023, according to market research firm TrendForce.
Major IC design houses have cut wafer input for the first quarter of 2023 and will likely scale back further for the second quarter. During this time foundries are expected to maintain a lower-than-ideal level of capacity utilization rate in the first two quarter of the year.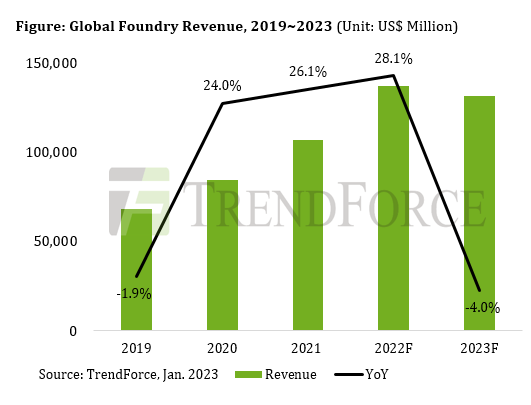 Forecast for global foundry revenue. Source: TrendForce In the second half of the year, TrendForce forecasts orders picking up for some components, however, the global economy may determine how much demand happens. Geopolitical risks that may also impact the supply chain include the war in Ukraine, issues with China and Taiwan and more.
IC design houses are preparing to lower the share of chip production based in China and the effect of this reallocation of foundry orders will be increasingly noticeable in the second half of 2023 and become obvious by 2024, TrendForce said.
According to TrendForce, 20 new wafer fabs will be built in the coming years as more countries provide subsidies to support construction and foundry makers begin a new era of regionalization after many years of semiconductor manufacturing being aggregated in Asia.
The U.S. will have five new fabs, China will have six, Europe will have four and another four will be located among South Korea, Japan and Singapore.
TrendForce said governments have quickly become aware of the importance of local manufacturing due to geopolitical events and the outcome of COVID-19 lockdowns. Because of this, foundries have a greater consideration for certain countries' subsidy policies and their clients.