Sick has launched the world's first 3D Time-of-Flight (ToF) camera that has safety Performance Level C certification in accordance with EN13849. It says that by opening up a third dimension for safety applications, the safeVisionary2 camera will offer a wide range of new options for mobile and stationary applications, including the automation of mobile robots and human-robot collaboration.
Until now, 2D lidar sensors have been used to protect two-dimensional hazardous areas. The new technology monitors 3D space, reducing the risk of collisions for mobile robots, and protecting a bigger volume than safety laser scanners. It provides side guarding, improving protection when a vehicle is turning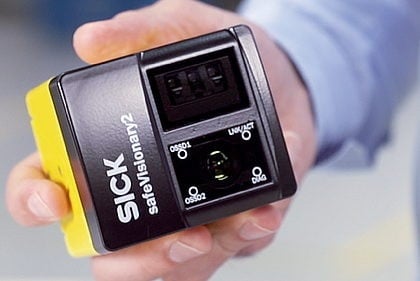 Source: SICKor rotating — for example, after loading or unloading.
In collaborative robot applications, safe 3D environment perception can reduce the necessary safety distances, as it also reliably detects people's upper bodies and therefore dangers such as reaching or leaning over in hazardous areas. The safeVisionary2 now also enables extended protection of the robot work area at human head height. In the past, it was usually necessary to stop the robot when people were in the immediate vicinity. Additional protection of the head enables real collaboration between humans and robots in many cases, as the latter can continue working with reduced force and speed.
The safeVisionary2 also ensures higher safety when using mobile service robots. In addition to the protective and warning fields for travel path protection, the camera offers a contour detection field that reliably identifies fall hazards, for example due to stairs or ramps.