It's January, which means it's time again for the annual CES tradeshow and 2023's iteration shouldn't be much different from its previous iterations in terms of the long list of robots making their debut in Las Vegas, Nevada, this week. Robots capable of all manner of tasks — from making coffee to protecting home and family — are currently on display at the event, which is being held Jan. 5-8.
Follow along with Electronics360 as we take a look at some of the robots making their CES debut.
Ottonomy.IO
Tech startup Ottonomy.IO has developed a fully autonomous delivery bot dubbed the Ottobot Yeti. The Ottobot Yeti, which is making its CES debut this year, was designed specifically for curbside, first mile and last mile deliveries.
The company demonstrated that the robot could perform autonomous deliveries across various terrains and under different weather conditions. To see the Ottobot Yeti in action, watch the accompanying video that appears courtesy of Ottonomy.IO
Supernova
Supernova, a manufacturer of robots, has developed a modular robotic arm featuring artificial intelligence (AI) vision. A CES 2023 Innovation Award winner, the HUENIT robot is intended for STEAM (science, technology, engineering, art and math) and maker applications. As such, the robot features six different modules including an AI camera with real-time image and facial recognition; a laser for engraving; a 3D printer for printing; a suction tool for handling objects; a pen holder for drawing; and a creator for developing even more modules.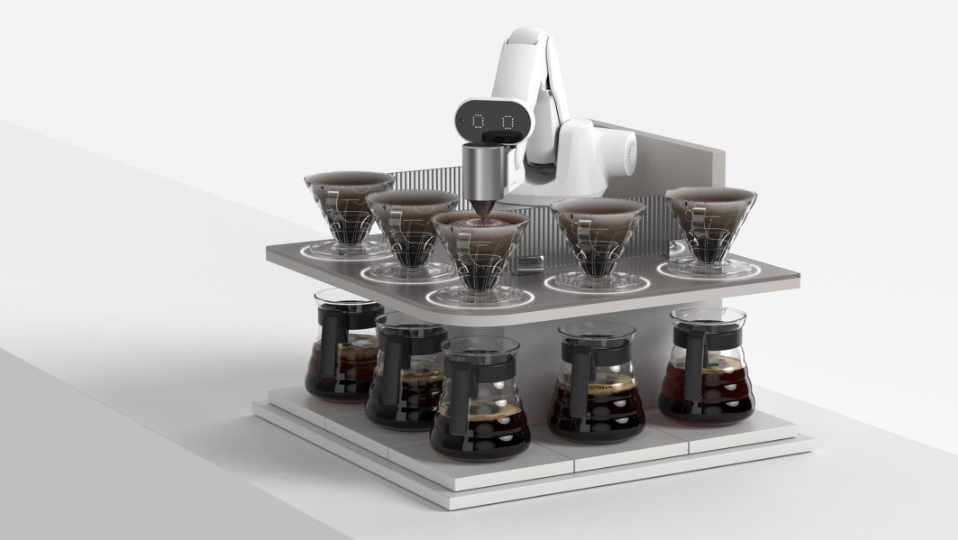 Source: Supernova
Additionally, Supernova has developed its first food and beverage service bot dubbed HUENIT Barista.
According to the company, the HUENIT Barista recognizes and greets customers, communicating with them via AI cameras. Further, the robot uses its auto-sensing system to automate the coffee brewing process.
Agrist
Japanese agritech startup Agrist has introduced its AI-powered harvesting robot, simply dubbed "L." A winner of the CES 2023 Innovation Award in the robotics category, the "L" autonomously patrols farms, monitors plants, collects data and identifies crops such as bell peppers ready for harvesting through thick layers of leaves. The harvesting robot is able to accomplish this via a series of AI algorithms and cameras.
The "L" was reportedly designed to reduce the workload on farmers amid global worker shortages and it can be seen in action in the accompanying video that appears courtesy of Agrist.
Dandy Technology
Robot manufacturer Dandy Technology has developed a line of consumer lawncare robots that autonomously eliminates weeds via spot treatment.
Through a combination of AI and visual processing, the Dandy DT-01 and Dandy DT-01XL can autonomously locate weeds with a reported 95% rate of accuracy before spraying them with herbicide. This spot treating approach, according to Dandy Technology, reduces the use of herbicides by an estimated 90%, eliminating the need to spray an entire lawn with herbicides.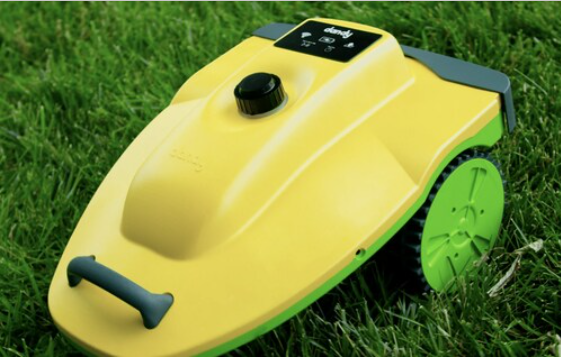 Source: Dandy Technology
Both iterations of the Dandy technology feature bumpers that allow the robots to navigate through grass and obstacles and sensors for identifying and eliminating the weeds. According to the company, the DT-01 robot is designed for smaller lawns with its 0.5 L reservoir for herbicides with the ability to spray up to 1,000 weeds before refill, while the DT-01XL robot features a 1.2 L reservoir for spraying up to 1,700 weeds before refill.
WowWee
Robotic toys and consumer entertainment products manufacturer WowWee has developed a robotic dog companion for consumers that is unique to every owner due to its a more than one million possible combinations of lights, sounds and personality traits.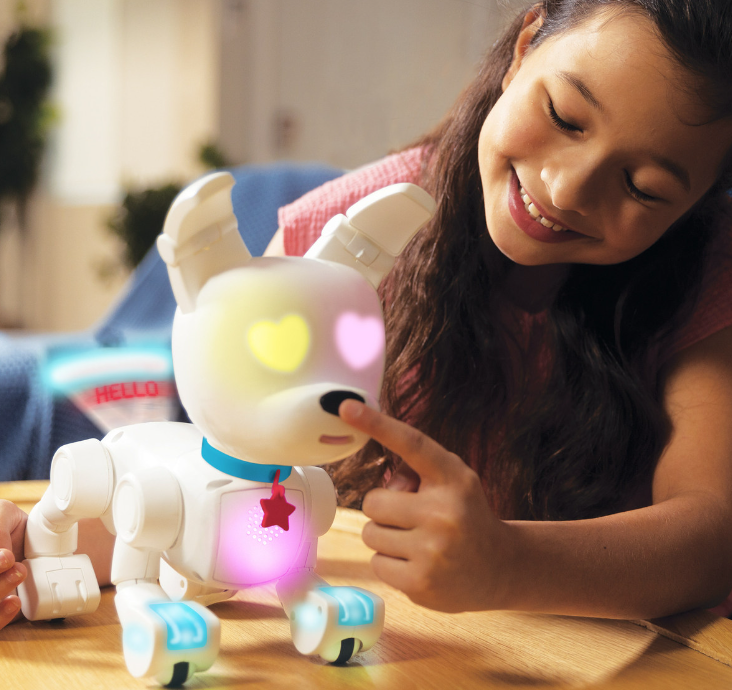 Source: WowWee
Dog-E is a smart, app-connected robot dog with life-like features and audio and touch sensor, making its debut at CES 2023. As soon as customers activate their Dog-E, it undergoes a minting process, wherein its unique colors and characteristics emerge. According to its developers, the minting process is initiated by a customer petting Dog-E's head, touching its nose or playing with it, among other interactions.
Aeolus Robotics
Also making its debut at this year's CES is Aeolus Robotics' dual-arm humanoid robot Aeo. The latest iteration of robot from the robot manufacturer, Aeo can accomplish an assortment of service tasks such as delivery, security, eldercare, kiosk operation and ultra-violet germicidal disinfection, among others. Aeo can reportedly open doors, pick up objects and ride elevators.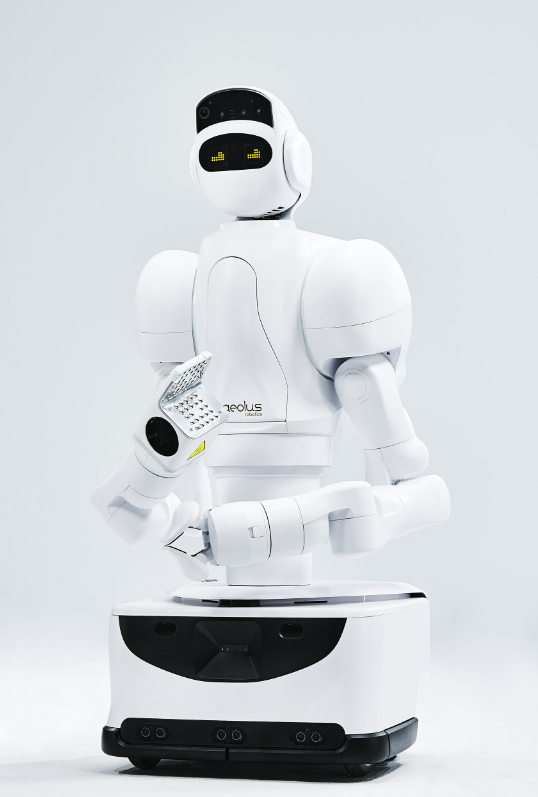 Source: Aeolous
Already in use in Japanese eldercare facilities where its vision algorithms enable the robot to determine the posture and position of residents for eldercare safety and detect open windows or misplaced backpacks for security services, Aeo is also being considered for use in settings such as schools and offices.
Enabot
Robotics company Enabot has brought its new family companion robot to this year's CES. EBO X, which has been named a CES 2023 Innovation Awards Honoree in both the Smart Home and Robotics product categories, is capable of performing tasks associated with home security, health alert systems, flexible remote communication capabilities and home entertainment options.
Considered a "smart guardian," EBO X, features auto navigation, AI face recognition and a gesture inspection algorithm to ensure the safety of a home and its inhabitants. Meanwhile the Certain Areas Intrusion Alert feature lets users designate locations in the home on an internal map as restricted areas and sends alerts when someone enters these areas.
The EBO X also features far-field sound sensors with a four-microphone array. If a child is crying or anyone in the home experiences an emergency and calls for "HELP," the EBO X detects it and triggers a call to the users.
Additionally, the robot allows families to stay in touch online while also offering built-in Alexa services and other home entertainment features.
For more on the EBO X, watch the accompanying video that appears courtesy of Enabot.
Keep checking back with Electronics360 for the latest coverage of the CES 2023 tradeshow.