IPETRONIK has introduced the M-THERMO3 16 as their latest temperature measurement device. As the first module of a new device generation, it sets standards in modular measuring technology. The 16 channels with freely selectable thermocouple types and a high-resolution 24-bit analog to digital converter offer maximum precision and flexibility. Thanks to its extremely fast boot time — 0.8 seconds from switching-on to measuring — the data can be recorded without waiting. The M-THERMO3 16 is highly compact and rugged, and its new wireless magnetic connection technology saves time during set-up and provides a highly safe data connection.
The M-THERMO3 16 boots in just 0.8 seconds and supports all common thermocouples (types K, B, C, E, J, N, R, S and T). Operating in ambient temperatures of -40° C to 125° C, the device can directly be mounted on the test object. Each channel is freely selectable and measures with the highest precision thanks to a 24-bit sigma-delta converter and a cold-junction compensation per channel. Unwanted interference, such as external thermal influence or ambient temperature fluctuation, is reduced to an absolute minimum.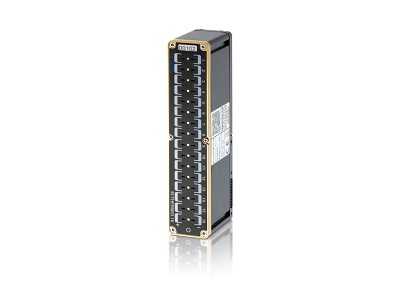 Source: IPETRONIK
The new contacting system reduces installation and start-up time. The wireless magnetic module connection and the controllable multicolor LED per channel facilitate set-up and configuration. With the wireless device chain, several measurement modules (up to 64) can easily be connected and integrated into one system. The intelligent CAN bus termination automatically activates the bus terminator.
The design of the M-THERMO3 16 is highly compact. Compared to the previous model, the volume has been reduced by 30% and the power consumption by 50%. In addition, it only weighs 415 grams. With their decentralized architecture, the modules can be installed in close proximity to the measuring point, reducing thermo cabling and improving data quality as well as measurement precision.