A new strain gauge with voltage and resistance measurement capabilities has recently been introduced by VTI Instruments, a brand of San Diego-based AMETEK Programmable Power.
Strain gauges are measuring elements that convert mechanical strain into an electrical signal. They work by offering electrical resistance to applied strain, which is then converted to absolute voltages by a circuit known as a Wheatstone bridge. Strain gauges represent the most universally used measuring devices for electrical measurement of mechanical qualities.
[Learn more about strain gauges.]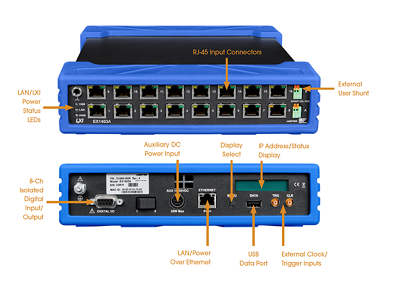 The EX1403A 'sets a new standard' for strain and bridge measurements. Source: AMETEK Programmable PowerVTI's EX1403A Precision Bridge and Strain Gauge Instrument is based on a flexible data acquisition platform that offers strong signal integrity and consistent repeatability. According to the company, the device "sets a new standard" for strain and bridge measurements by delivering high performance while controlling overall test hardware costs.
The device features 16 channels of strain or voltage, independent 24-bit analog-to-digital converters (ADCs) per channel, software-selectable filtering and independent signal conditioning paths. Integration of built-in signal conditioning, programmable excitation and selectable bridge completion, all configurable on a per-channel basis, offers simplified setup.
Additional benefits include:
Ethernet/LXI interface
IEEE-1588 v2 precision time protocol (PTP)
Power over Ethernet (PoE) capability
Plug-and-play ready
Such benefits have a direct impact upon scalability. The device integrates extended functions, as defined in the LAN extensions for instrumentation (LXI) specifications, to provide box-to-box synchronization for precise correlation of acquired data. Time stamping of data with IEEE-1588 codes simplifies inter-module communication and flexible triggering options over Ethernet, eliminating the overhead normally attributed to application software running on a host controller.
At the same time, the IEEE-1588 v2 PTP standard provides an architecture that can be scaled from tens to thousands of channels. Multiple instruments can be distributed extremely close to measurement points of interest, reducing the run length of analog cabling and minimizes errors induced by noisy environments. PoE also enables a single cable to be used for both power and data capture.
Testing applications include high-quality static or high-speed strain measurements of airframe structure and fatigue, rocket and satellite structure, wind tunnel flight loads and load frame materials.