Hon Hai Technology Group (Foxconn) has unveiled two prototype electric vehicles (EVs) at its recent Hon Hai Tech Day in Taipei, Taiwan.
This continues Foxconn's move heavily into the automotive market on both the semiconductor side and the vehicle development side.
The two EVs include one hatchback crossover and the second is an all-terrain electric pickup.
The Model V is the first made-in-Taiwan all-electric pickup truck and will complete the range of vehicles that Foxconn has with its passenger cars and large commercial vehicles. Model V is developed from a collaboration with Foxconn's MIH alliance partners and will have a payload of up to 1 ton and a towing capacity of 3 tons. The EV pickup adopts a double-cab, five-seat configuration with sensors that cover the EV.
The Model B crossover is a vehicle based on Foxconn's Model C platform but with a new body design. The S-duct design allows for a cruising range of 450 kilometers and uses a 2.8-meter wheelbase.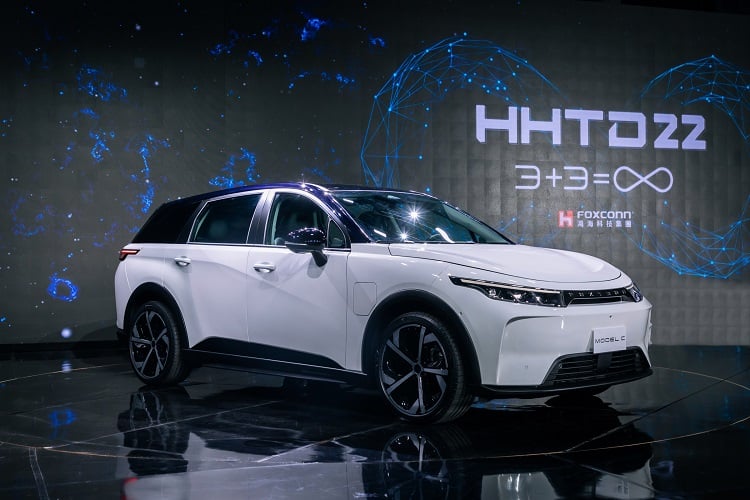 The Model B will be a hatchback crossover that will be developed on Foxconn's Model C platform but with a new body design. It will have a cruising range of about 450 kilometers. Source: Hon Hai Technology Group
Meanwhile, Foxconn showcased a production version of its Model C EV that features an electric power steering system, solid-state battery, silicon-carbide power module and semiconductors.
"The rapid development of Hon Hai in the field of electric vehicles is a continuation of the Group's growth and innovation," said Terry Gou, founder of Foxconn. "In the past, we assisted global brand customers to transform the consumer electronics industry chain, step by step, providing consumers with extraordinary and affordable technology products. In the future, Hon Hai will certainly redefine the EV industry and provide drivers with safe and comfortable user experience in transportation."
Foxconn's goal is to hold about 5% of the EV market by 2025 with an annual 500,000 to 750,000 units. To meet these goals, Foxconn will be upping its capital expenditures for EV development in 2021 and 2022 to $500 million.
Earlier, Foxconn said it would develop a new EV for startup Fisker. The launch of the Ocean all-electric SUV is said to begin shipping in the fourth quarter of 2022. The vehicle is still on track for this schedule which will be an interesting addition to the automotive transition to electrification as it contains a solar roof, something most EVs do not.
While Foxconn ramps up its EV presence, the company is also ramping up its automotive semiconductor presence. Earlier this year, the company said it would expand its semiconductor manufacturing capabilities, specifically focused on the automotive industry particularly with 8 inch and 6 inch wafers that will begin in 2023 with 6 inch silicon carbide (SiC) wafers also beginning production in 2023.
The move comes as the semiconductor industry is still dealing with an ongoing chip shortage that has impacted the entire supply chain and has hit the automotive market especially hard. For the past few years, the automotive market has had to realign its output of vehicles multiple times due to the chip shortage and cut revenue projections.