Researchers from the National Cheng Kung University (NCKU) in Taiwan have conducted a new study to recover energy from single-use, or primary, discarded batteries.
These single-use batteries are common in self-powered devices, flashlights or tools and when the battery is used, it is likely discarded. According to researchers, nearly 15 billion batteries are produced and sold worldwide and when they are discarded end up in landfills or some are extracted for valuable metals.
Although these batteries do not have enough energy to power devices or tools, about half of them contain as much as 50% energy.
Determining discharge
In the NCKU study, the method called self-adaptive pulse discharge (SAPD) can be used to determine the pulse frequency and duty cycle to determine the discharge current from discarded batteries. A high discharge current amounts to a high amount of recoverable energy.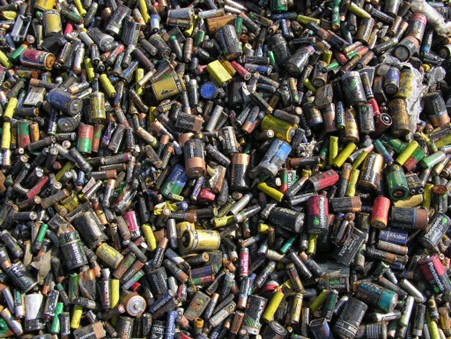 A new study demonstrates a possible solution to recovering residual energy from discarded batteries. The research could be used to pave the way for future reutilization strategies for e-waste recycling. Source: Eva the Weaver"Draining small remaining energy from household batteries is a starting point for waste reduction, and the proposed energy recovery method serves as an effective tool to reutilize a large number of discarded primary batteries," said Chien-Hsing Lee, professor at NCKU.
Researchers built a hardware prototype that was used to recover remaining capacity of battery banks capable of holding at least six batteries of different brands. The team was able to recover between 798 and 1,455 joules of energy with a recovery efficiency of between 33% and 46%.
Combining methods
Researchers found that the short-circuit discharge (SCD) method had the highest discharge rate at the beginning of the discharge cycle but the SAPD method shows a higher discharge rate at the end of the discharge cycle.
Using both SCD and SAPD methods, the energy recovered was 32% and 50%, respectively. When these methods were combined, 54% of energy was recovered.
"While there seems to be no advantage in draining a small amount of energy from a single discarded battery, the recovered energy significantly increases if a large number of waste batteries are exploited," Lee said.
The team said there may be a link between energy recovery efficiency and the remaining capacity of discarded batteries. Additionally, different types of batteries may be applicable to the method including rechargeable batteries such as lithium-ion based.
The full research can be found in the journal IEEE Xplore.