A new design-to-test analytics software solution from National Instruments supports the acceleration of wireless, semiconductor and electronics innovation.
DataStudio software bridges critical data across the semiconductor design and test workflow to fast-track product development. DataStudio Specification Compliance Manager (SCM), the first application in the DataStudio family, manages device specifications, connects to measurement data sources and automatically generates compliance reports. DataStudio SCM provides a comprehensive view of the device's conformance to target specifications, enabling better decision making and reporting, and leverages data often lost across design, validation and production test silos. By laying the groundwork with comprehensive data infrastructure, engineers gain clear and actionable insights to improve productivity and reduce the manual effort required during chip development.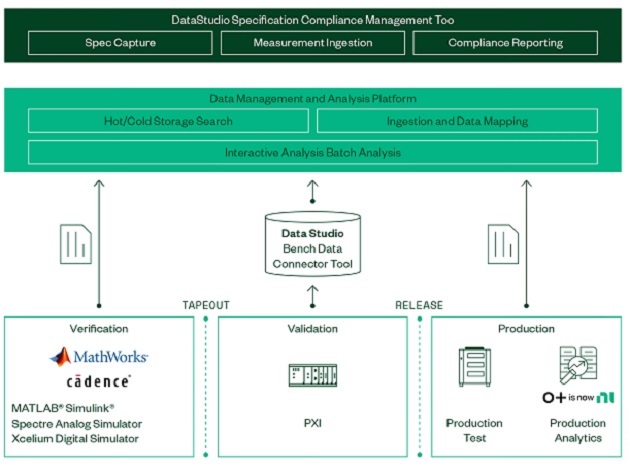 Source: National Instruments
A DataStudio Bench Data Connector validation bench test library is also available to provide a standardized way to store validation data that is automatically compatible with the DataStudio SCM. This facilitates importing bench measurement data into the compliance reporting software.
Available in both on-premises and in-the-cloud deployment, DataStudio is expected to speed workflow modernization, from product definition to verification, validation and production test.