The leaders in the microprocessor market increased their market shares in 2021 to 86.0% of the global market with $102.7 billion in sales, compared to 85.0% in 2020 and 82.1% in 2016, according to new research from IC Insights.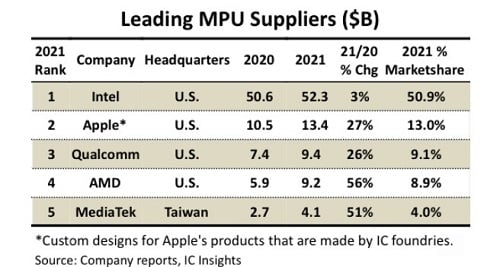 The leading microprocessor vendors by market share. Source: IC Insights The total market for microprocessor sales reached nearly 12% to a record high $114.8 billion due to average selling prices (ASPs) rising and despite continued lockdowns and supply chain issues due to the COVID-19 pandemic.
Intel was again the top ranked MPU vendor with 50.9% market share and $52.3 billion in sales in 2021. Apple, Qualcomm and Mediatek were the second, third and fifth placed vendors in the MPU market due to growth in the mobile phone market. While Intel and fourth-placed AMD develop x86 microarchitecture MPUs, these other companies in the top 5 sell system-on-chip microprocessors containing RISC architectures and CPU design cores licensed from Arm.
While the revenue gap between Intel and other MPU vendors continues to narrow, the next largest company even close to Intel is Apple with only a 13.0% market share. AMD saw its sales surge 56% to $9.2 billion in 2021, grabbing revenue from Intel and moving up its total market share to 8.9%.
Meanwhile MediaTek, the only Taiwanese company in the top 5, grew 51% year-over-year in sales becoming a legitimate challenger to other mobile phone semiconductor vendors Apple and Qualcomm.