The semiconductor market will reach historic highs this year with 17 chip vendors forecasted to hit sales of $10 billion, according to new data from IC Insights.
The list includes nine suppliers headquartered in the U.S., three in Europe, two in Taiwan and South Korea and one in Japan. Among these:
Six are fabless companies: Qualcomm, Nvidia, Broadcom, MediaTek, AMD and Apple
One is a pure play foundry: Taiwan Semiconductor Manufacturing Company (TSMC)
Three are reaching this market for the first time: AMD, NXP and Analog Devices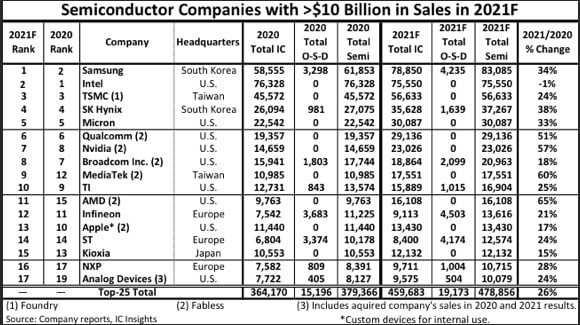 IC_InsightsAmong these so-called megasuppliers, sales are expected to jump by 26% in 2021 compared to last year, IC Insights said. However, growth rates are forecasted to range considerably depending on the suppliers. For example, AMD is expected to grow 65% this year while Intel is expected to drop -1% this year.
Four companies are forecast to post higher than 50% growth in sales including AMD, MediaTek, Nvidia and Qualcomm.
Samsung is forecast to be the leading chip vendor with sales of nearly $83.1 billion in 2021. Samsung replaced Intel as the leading producer of memory in the first half of this year as the market for DRAM and NAND flash have seen strong growth this year. Samsung is forecast to grow 34% in 2021 and open a $7.5 billion lead over second-ranked Intel this year, IC Insights said.
Rounding out the top 5 in 2021 include TSMC in third place with $56.6 billion in sales, followed by SK Hynix with $37.3 billion and Micron in fifth place with $30.1 billion.
The full research can be found in the McClean Report.