IC Insights forecasts that Samsung will displace Intel as the number one semiconductor company in the world in its update to the 2017 McClean Report. Intel has held the top slot for annual sales since 1993.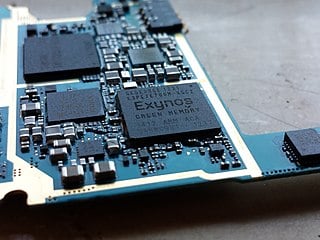 Samsung's latest smartphnes are powered by Exynos chips.
Samsung first charged into the top spot in the second quarter of this year. It has been a quick ascent for the South Korean manufacturer. In the first quarter of 2016, Intel's sales were a substantial 40 percent greater than Samsung's, but today that lead is gone. Intel is predicted to trail Samsung in the full-year 2017 semiconductor sales ranking by $4.6 billion.
Samsung's big increase in sales this year has been primarily driven by a rise in DRAM and NAND flash average selling prices.
In 1993, Intel had 9.2 percent of the worldwide semiconductor market. Thirteen years later, in 2006, Intel was still on top, and had grown its larger market share to 11.8 percent. In 2017, Intel's sales will represent 13.9 percent of the total semiconductor market, although that number is down from 15.6 percent in 2016. Those figures indicate that Samsung's rise to the top is more due to gaining market share rather than to Intel losing customers. Samsung's global semiconductor market share was 3.8 percent in 1993, 7.3 percent in 2006, 12.1 percent in 2016 and forecast to be 15 percent in 2017.
In addition, Nvidia debuts on the list this year. IC Insights predicts Nvidia will see a 44 percent increase in sales this year. The company is expected to replace fabless supplier MediaTek, likely to fall off the list due to an 11 percent decrease in sales between 2016 and 2017.