Multiphase level measurements are required throughout process industries and are especially significant in the oil and gas and petrochemical sectors due to the value derived from effectively separating water and hydrocarbon. While level instrumentation has come a long way in measuring liquids of all varieties, multiphase level measurement remains a challenge and an opportunity to improve process efficiency.
The Genesis Multiphase Detector from Magnetrol is designed to measure multiple phases in applications with thick and dynamic emulsion layers. Features include 24 V DC input with four 4 mA to 20 mA outputs (including HART) for control of total level, top of emulsion, water level and sediment. Changing media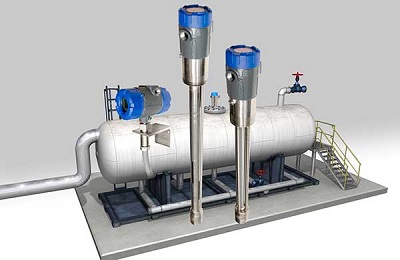 Source: Magnetrolcharacteristics have no effect on level measurement and calibration or moving of levels in the vessel is not required.
A four-button keypad and graphic LCD display allow for easy viewing of configuration parameters and performance curves, while proactive diagnostics enable maintenance to be scheduled, helping avoid unplanned shutdowns.
Measuring dynamic conditions in difficult processes, such as desalters and separators, is now achievable with the Genesis multiphase detector, said the company. It provides a cost-effective solution capable of measuring total level, emulsion layers, and sediment from a single opening in the vessel.