Combine DIY talents with an Epilog carbon dioxide laser to customize wind chimes for placement on porches or in gardens or as a personalized gift.
Follow the simple instructions, complete with downloadable graphics, from Epilog Laser to add some artistic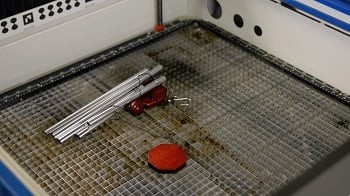 Source: Epilog Laser and musical flair to the humble wind chime. Use of a Fusion Pro 24 80 W laser engraver is recommended, set at 65% speed, 100% power and 500 dots per inch resolution.
CO2 laser engraving machines from Epilog Laser are more versatile than router engravers or milling machines, as these systems can quickly and easily customize wooden objects and products, engrave glasses or ceramic cups, etch on stone or plastic, mark coated metal plates, print on fabric and leather, and more.