Rohde & Schwarz has introduced a new approach for 5G radio communication testing with the introduction of its R&S CMX500, a one-box test platform designed to combine ease of use and superior performance in a single instrument.
Ten times more powerful than the company's own 4G-focused wideband radio communication tester, the R&S CMW500, the new device supports a wide variety of both present and future 3GPP band combinations while also offering an extremely small lab footprint.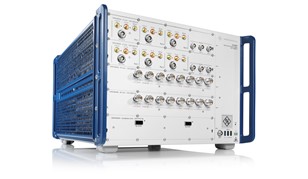 The R&S CMX500 is a one-box test platform designed to combine ease of use and superior performance in a single instrument. Source: Rohde & SchwarzAs Rohde & Schwarz points out, data-hungry enhanced mobile broadband (eMBB) applications like 8K video streaming or augmented and virtual reality will call for data rates as high as 10 Gbps in uplink and 20 Gbps in the downlink. To realize its one-box tester concept, the company combined sub-8 GHz RF units for FR1 with remote radio heads (RRH) for mmWave frequencies up to 50 GHz in FR2. The approach supports simulation of challenging band combinations — for example, higher order carrier aggregation with up to eight component carrier combinations of FR1 and FR2 in downlink is possible, achieving data rates of 10 Gbps and beyond on the IP layer.
Moreover, the device enables complex test setups for 5G NR deployments covering LTE, 5G NR FR1 and FR2 in both non-standalone (NSA) and standalone (SA) mode, for both Frequency Division Duplex (FDD) and Time Division Duplex (TDD) spectrum usage techniques. Manufacturers of 5G NR capable chipsets and devices as well as certification providers can leverage the device to cover the entire product lifecycle, from early R&D design phases to end-to-end application testing and device certification.
The new R&S CMX500 continues the company's one-platform strategy: By using the same test concepts and identical measurements, reproducible and validated test results can be delivered from R&D over device certification into mass production.
The modular hardware design of the device is complemented by R&S CMsquares, a web-based graphical user interface that enables users to manage their 5G testing tasks with the help of intuitive measurement squares. The company's test portfolio also includes related peripheral solutions like shielded chambers for over-the-air (OTA) measurements in FR2, which users can seamlessly integrate into their test setups.