The R&S TS-RRM-NR 5G conformance test system from Rohde & Schwarz is the first test platform to achieve test platform approval criteria (TPAC) from the Global Certification Forum (GCF) certification organization for 5G radio resource management (RRM) at FR2 frequencies. As a consequence, the first RRM conformance FR2 work items have reached "active" status, making them mandatory for mobile device certification. RRM FR2 test cases with one and two angles of arrival (1xAoA and 2xAoA) have been validated in multiple FR2 EN-DC band combinations.
At its CAG#70 meeting, GCF validated more than 80% of the priority 1 test cases for the R&S TS-RRM-NR test system. Several FR2 sub-work items in GCF WI501 have become active, making them relevant for the mandatory certification of mobile user equipment. Manufacturers of mobile devices ready to get their products certified for RRM 5G FR2 can now do so using the R&S TS-RRM-NR test system, the only test platform (TP) to reach the "Approved TP" status for all EN-DC combinations using n260 or n261 FR2 bands. Furthermore, Rohde & Schwarz is leading in terms of number of validated RRM FR2 test cases, as well as for the overall RRM FR2 validation counts.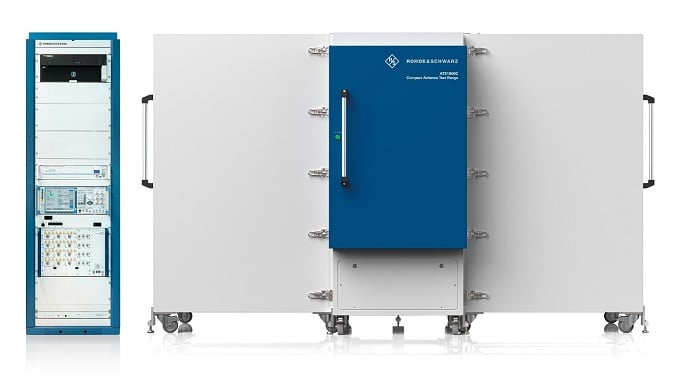 Source: Rohde & Schwarz
The R&S CMX500 radio communication tester and the new R&S ATS1800M CATR based anechoic chamber for mmWave 5G OTA testing have added 5G NR signaling functions for FR2 1xAoA and 2xAoA to the integrated R&S TS-RRM-NR test system. Operated by the R&S CONTEST sequencer software, features include high efficiency as well as precise and reproducible measurement results. The R&S ATS1800M supports multiple AoA measurements, compliant to the enhanced IFF test setup as per 3GPP TS 38.508-1 thanks to its two side chambers. Consequently, a unique 3D quiet zone is formed, which enables the required measurements.
The 5G RRM test cases are also supported by the R&S TS8980, a unique integrated radio frequency (RF) conformance test system supporting mobile technologies all the way from 2G to 5G, including FR2. For further information on RF and RRM conformance test solutions from Rohde & Schwarz, visit Carrier Acceptance test solutions for Network Operators.