One of the principles that makes autonomous driving possible is communication with the surrounding environment. It must happen simultaneously with other vehicles, road infrastructure, networks and other elements. Large data volumes generated by sensors such as vehicle cameras need to be supported with 5G connectivity enabling large-capacity, low-latency interfaces; support is also needed for 3D high-definition mapping data.
Equally important for the products behind the communication capabilities of the "connected car" is testing and verification in over-the-air (OTA) environments designed to simulate real-world conditions. Working with Microwave Vision Group (MVG) and Toyota, communications test and measurement solution provider Anritsu recently announced what it called the world's first 5G vehicle OTA RF test system. The system was developed using Anritsu's MT8000A radio communication test station.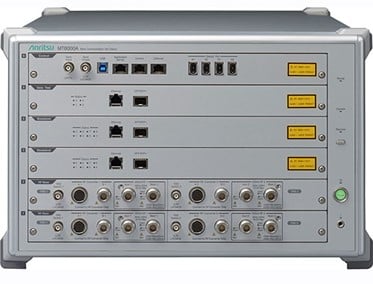 The MT8000A radio communication station was used in the development of what Anritsu called the world's first 5G vehicle OTA RF test system. Source: AnritsuAs Anritsu explained in a press release, characterizing an antenna involves radiation pattern measurement to determine how well and in which direction it radiates. For reliable information on 3D radiation patterns, antenna performance tests are moving in the direction of OTA test solutions. Tests are performed through a radio communication tester, and they are conducted using a near-field measurement method in an anechoic chamber, which blocks external electromagnetic fields and simulates realistic and complex radio frequency (RF) scenarios. A high-precision positioning system including controller and turntable enables continuous, on-the-fly measurements of directivity, gain and efficiency.
Anritsu credited MVG's OTA measurement solutions for design specifically geared for complete verification of automotive wireless performance. As for its own MT8000A unit, a 5G base-station simulator for 5G RF measurements as well as protocol and application tests, it can be deployed in a wide range of applications, including smartphone testing and tests and evaluations of antennas and high-frequency parts. It supports high-order 4x4 MIMO and carrier aggregation (8CA) technologies to provide fast, large-capacity communications.
A newly released brochure on the MT8000A notes that the test platform supports both the FR1 (to 7.125 GHz) and FR2 (millimeter wave) bands used by 5G. Flexibility and expandability are also supported by the device's modular architecture design.
Visit Anritsu to learn more. Regular readers may also recall that Electronics360 recently reported on another Anritsu OTA test solution for wireless local area network (WLAN) devices, such as IoT and smart home appliances.