One current trend on the rise for 5G is the rollout of millimeter wave (mmWave) networks in crowded locations, such as stadiums, airports, busy streets and other large venues. As mobile communications industry organization GSMA explained, these networks are delivering multi-gigabit data rates at very low latency, enabling more connections to be handled and peak data rates for individual devices to be boosted.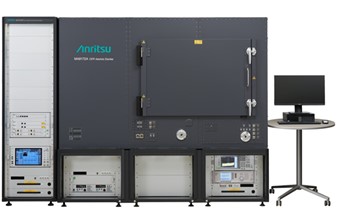 A new configuration for the New Radio RF Conformance Test System is part of Anritsu's response to the rising trend of 5G mmWave network rollouts. Source: Anritsu CompanyThis rollout is gaining momentum particularly in North America and Japan, according to communications test and measurement solutions provider Anritsu. True to form, the company has responded with solutions tailored to the trend, as evidenced by a pair of recent product announcements.
First, Anritsu's Compact Antenna Test Range (CATR) Anechoic Chamber 2 MA8172B configuration for its New Radio RF Conformance Test System ME7873NR employs a unique hybrid approach of direct far field (DFF) and indirect far field (IFF) test methodologies to reduce costs and save space. The solution, which supports 5G mmWave/2 angle of arrival radio resource management tests, is designed for the challenge of evaluating user equipment (UE) communications quality and connection stability during handovers between base stations.
The new configuration reproduces the radio-wave propagation characteristics at communications between the UE and two base stations in compliance with 3GPP; users can configure any angle of arrivals from the two base stations, supporting a wide range of applications. That includes conformance tests and research and development, both of which Anritsu expects to see become active markets as rollout continues.
The company also introduced a new software option (MX800010A-026) that employs machine learning to optimize test times for 5G mmWave 3D equivalent isotropic sensitivity/cumulative distribution function (EIS-CDF) scans. The need for this is underscored by the nature of 3D testing, which is specified by the 3GPP standard but requires extended test time to cover a large number of measurement points. When used with the CATR Anechoic Chamber MA8172A, UE antenna properties are automatically learned to facilitate test efficiency; when used with the company's Radio Communication Test Station MT8000A, two mmWave UE models see a 35% to 60% reduction in test times.