Manufacturers of small and large wireless local area network (WLAN)-equipped devices, such as internet of things and smart home appliances, can optimize the radio performance and improve end-use satisfaction by measuring the over-the-air (OTA) performance in repeatable, life-like conditions. By combining their latest product upgrades, Anritsu and Bluetest have created a strong and up-to-date OTA measurement solution for the verification of WLAN radio frequency performance in the new 6 GHz band and existing WLAN standards (802.11 a/b/g/n/ac/ax) in the 2.4 and 5 GHz bands.
With this collaboration, customers now have a complete WLAN OTA test solution with transmit power and receiver sensitivity measurements on devices and access points.
Public communication systems have typically had an upper frequency limit of 6 GHz. With the WLAN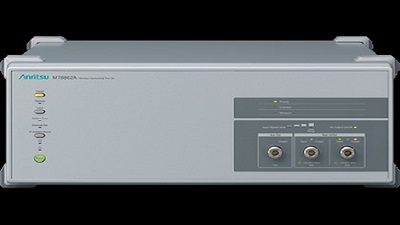 The WLAN tester. Source: Anritsu standard IEEE 802.11ax expanding up to 7.125 GHz range (Wi-Fi 6E), this is now changing. This increase in available frequency space and number of 160 MHz channels is expected to greatly benefit the growth of WLAN connected devices and services.
The Anritsu wireless connectivity test set MT8862A is dedicated to the WLAN standard, which means it is optimized for stable and reliable connections with wider dynamic range. This is the case even in a faded environment such as in the Bluetest reverberation chamber. It has been updated with a new radio module, which adds support for the 6 GHz band and 160 MHz channels, as well as the 2.4 GHz and 5 GHz bands that are already supported. The test setup can be easily expanded to support 2x2 multiple-input and multiple-output (MIMO) measurements using two MT8862A units.
At the same time, Bluetest has upgraded the complete range of reverberation test systems with an increased default frequency coverage. The upgrade of the compact and cost-effective RTS25 chamber consists of the addition of the new 6-7.125 GHz band. This chamber is primarily targeting the buzzing WLAN and Bluetooth industry. The RTS65, as well as the larger RTS85 and RTS95 now feature 4x4 MIMO support for frequencies all the way up to 12 GHz, in addition to previously released 5G FR2 packages with 2x2 MIMO support up to 43.5 GHz.
The Anritsu MT8862A and all Bluetest chambers with the extended operating frequency range are available for order. Upgrade packages are available for already installed systems. The updated Bluetest chambers come with corresponding upgrades to the line of accessories, such as reference antennas, ISS11 attenuator system and ISS11 instrument switch.