Want to get up close and personal with the IoT?
Business engineering solutions firm Tech Mahindra and test and measurement solutions provider Anritsu have recently announced a collaboration to launch what they're calling an IoT Experience Lab, located in Tech Mahindra's Fremont, California facility.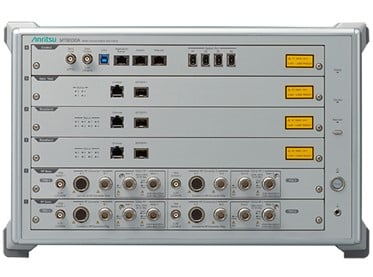 This radio communication test station is one of several pieces of equipment at the newly launched IoT Experience Lab at Tech Mahindra's facility in Fremont, California. Source: AnritsuThe lab is designed as an incubator, as well as a research and development center, offering efficient testing of 5G devices for emerging IoT use cases. It supports IoT device manufacturers looking to validate their designs early in the development phase, helping them to launch best-in-class IoT products. The lab aims to be a simple, cost-effective environment for device manufacturers to verify performance and ensure greater product confidence during the pre-commercialization phase.
The collaboration leverages use cases developed by Tech Mahindra along with smart application software from Anritsu. The software automatically performs functional, performance, stress and regression tests, providing user-friendly reports and logs to gauge device performance.
Anritsu equipment at the IoT Experience Lab includes:
Device OEMs can access the lab to verify that their products are performing based on expected outcomes of applications in a variety of verticals, including industrial IoT, telemedicine, autonomous vehicles, smart cities and virtual reality.
The availability of Tech Mahindra's engineering expertise in developing IoT devices ready for commercialization, combined with Anritsu's support in multiple technologies including 5G Non-Standalone (NSA) and Standalone (SA), 4G LTE, and WLAN, supports the potential for OEMs to realize cost savings using the lab. It also minimizes the potential for failures or returns when devices are connected to commercial enterprise networks.