An estimated two-thirds of the world's population will potentially face water shortages by 2025. Yet every year, billions of liters of water are lost before ever reaching destinations. A detailed understanding of per capita demand, growth of demand and costly leakage can be achieved by accurate and timely flow data coming into and going out water operations.
ABB's AquaMaster4 Mobile Comms flowmeter is the latest wireless solution for continuous flow measurement, the logging of accurate data and communication of information that is critical for today's water management. With its superior connectivity on 4G-LTE and narrowband internet of things networks, the AquaMaster4 electromagnetic flowmeter enables 60% lower power consumption, identifying leaks ten times faster than the market standard.
As the world's first electromagnetic flowmeter with bidirectional connectivity, AquaMaster4 Mobile Comms provides near-real-time data used for intelligent water management. Operators can be hundreds of miles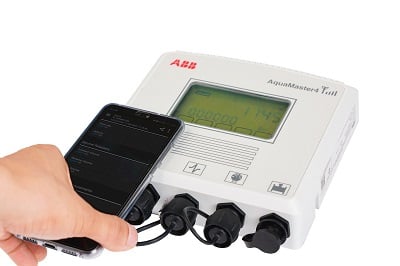 Source: ABB Measurement & Analytics away and read values from the device remotely, giving them access to manage the device and their operations wherever they are located and at any time. Historical logged values of pressure, flowrate, alarms, battery life and activity record can also be retrieved remotely.
The flowmeter can also identify low-flow nighttime leaks that would otherwise be undetected. The superior accuracy and connectedness offers increased measurement and billing confidence.
By using high-speed, low-cost mobile data accessible via an internal SIM card connected to a mobile network, the new AquaMaster4 Mobile Comms provides an adaptable and agile solution for deployment from virtually any location. Costs are further reduced by the flowmeter's high battery life, which removes the need for cumbersome, costly cables and field visits.
The flowmeter detects battery life and can be reconfigured to a suitable power mode. The device recovers itself by rebooting in case of faults and allows for task automations. It can also be renewable-powered, further extending its cost-cutting capabilities, all while the predictive maintenance schedule and enhanced diagnostics helps save time and money.