What exactly is li-fi? Light fidelity (li-fi or LiFi) is an alternative way of accessing the internet; instead of using radio frequency like wi-fi, the visible light spectrum is used. It has been around for a few years now, and is a very exciting technology. However, will it be able to surpass wi-fi altogether?
How does li-fi connect?
Li-fi works by using LED lights and transforming them into wireless transmitters. The lighting medium is used to communicate data wirelessly. The upcoming spectrum crunch was foreseen by experts and there would soon be a lack of radio frequency spectrum for all mobile devices. An example would be having difficulty connecting to wi-fi in a crowded, urban area.
Back in the early 2000s, new LED technology was hitting the market, and the opportunity was seen to begin working on combining wi-fi and LEDs. Li-fi access points need to be set up; they will be boxes that are roughly the same size as a brick, with attached LED downlighters. These will cover around 20 square meters, and the lights will act as wireless antennas. To receive data from the lights, users need a wireless dongle that plugs into the side of a tablet or laptop. This dongle is a little smaller than a pack of cards, and there is a sensor that will catch the light coming down and an infrared signal sends a signal back the other way. The lights will also have a networking component to allow multiple users to connect to the same light at once.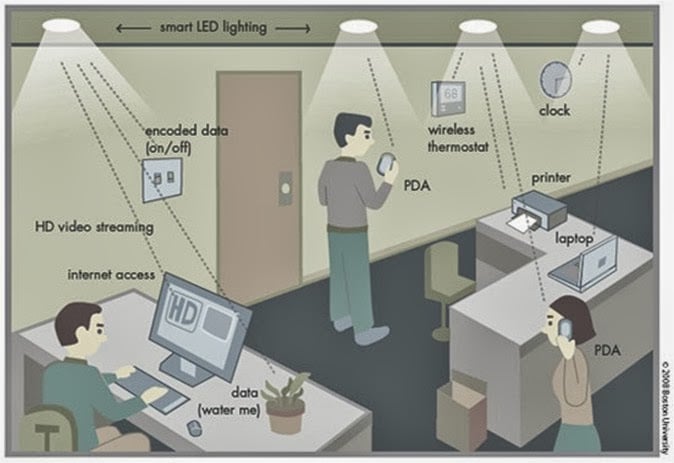 Li-fi will allow for more secure connections in office settings.
A li-fi connection will pop up on a mobile device the same way that a wi-fi connection does, and the average speed of current systems top out at 40 Mbps, but that is both download and upload speed. The lights generally have about a 60-degree field of view, which gives users about 10 square meters of coverage. The speed of the connection does decrease by about 25% when the user ventures toward the edges of the light, and as the data is being transmitted by light, it can be reflected and still deliver data, albeit slower than the main beam.
Advantages of li-fi
No more than one wi-fi access point can be used in a similar area to the li-fi (10 square meters), as information would bleed everywhere around it. This easily shows two of the main advantages when it comes to li-fi it is more secure and you can transfer data at higher speeds in a localized area. These advantages are because light cannot penetrate walls like wi-fi signals can and that will enable networks with much higher security to be created. Also, the more li-fi lights in a certain area, the more the total capacity of the network increases.
Look at a cell phone in an apartment block or office. There could be potentially 20 networks popping up in the wi-fi settings. This can not only cause interference, but is a massive security risk. Sending sensitive information or even buying things with credit card online can expose information to anyone on those networks. With li-fi, the network only stretches as far as the light can reach.
Li-fi not set to replace wi-fi completely
It is important to note that li-fi is not aiming to outright replace wi-fi and cellular networks; it is a technology suitable for particular applications, like high-security institutions. It aims to fit into the connectivity spectrum where cellular connection allows users to explore a city, a wi-fi network allows users to explore a campus and li-fi allows indoor exploration.
Li-fi will relieve the strain on existing networks and in 10 to 15 years, and it is believed this technology will be everywhere.