CES 2022 takes place Jan. 5-8 in Las Vegas where consumers, designers and engineers will come together to showcase the latest innovations and next-generation technologies.
However, prior to the show, the annual CES Innovation Awards honorees are announced, offering a taste of what to expect and what has been developed during the year that is potentially groundbreaking.
The CES Innovation Awards are handled each year by the Consumer Technology Association (CTA) and are an annual competition honoring design and engineering in 27 consumer technology product categories. A panel of industry judges review submissions based on innovation, engineering, functionality, aesthetic and design. This year, more than 1,800 submissions were received.
Here's a list of 10 Innovation Award honorees that caught our eye.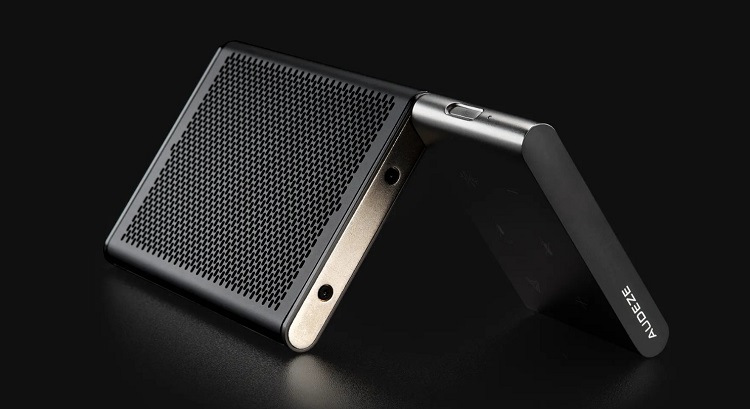 Filter is a portable conference speakerphone with artificially intelligent microphones to make conference calls clearer. Source: Audeze
Audeze Filter
COVID-19 changed how people do business, how people go to stores and eat out. These changes are unlikely to return to a pre-COVID normal for some people or businesses any time soon. That's where Audeze's Filter comes into play.
The device is a portable conference speakerphone with artificially intelligent microphones. Audeze claims it is the first speaker to feature planar magnetic drivers. The filter connects to video conferencing systems and provides clear audio input and output regardless of how big or small a conference room or home office may be.
Audeze said the device can adapt to any situation whether it be a hotel room or big conference room or home office and it is the size of a typical mobile phone so it can be transported easily.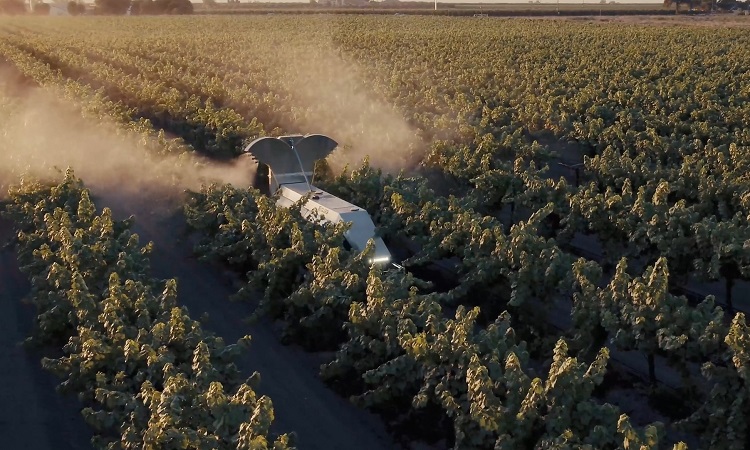 The Mini Guss is a smart farming robot that can be deployed autonomously to spray crops. Source: Guss
Mini Guss
Autonomous robots are increasing in scope and usage in smart farming. Mini Guss is a smaller scale version of the original farming robot that is an autonomous sprayer for crops. A single employee can increase acreage everyday using the robot without any intervention.
The robot can be monitored through a laptop computer and when the spray tank is empty, an employee waits for Mini Guss to stop for a refill, which takes about three minutes.
Additionally, the robot can map fields for quicker deployment and use, and the map can be saved and used during the entire life of the farm. The autonomous robot can be configured for the application it performs, determining which spray nozzles to use and what vehicle speeds, engine RPMs, pump pressures, material flow rates and rows per refill to set.
Origo Steering Wheel
Recognized for outstanding design and engineering in the Vehicle Intelligence & Transportation category, the Origo Steering Wheel is a concept from a collaboration of Canatu, Siili, TactoTek and RIghtware.
The steering wheel, which will be demonstrated at CES 2022 in Canatu's booth, brings smart device user experience to cars. The driver can control all key functions of the car by thumb without letting go of the steering wheel.
The concept includes transparent 3D-formed touch surfaces for eyes-free control of the car's functions. The physical steering wheel aligns with a digital user interface to create a user experience that allows the driver to have access to relevant data at any time.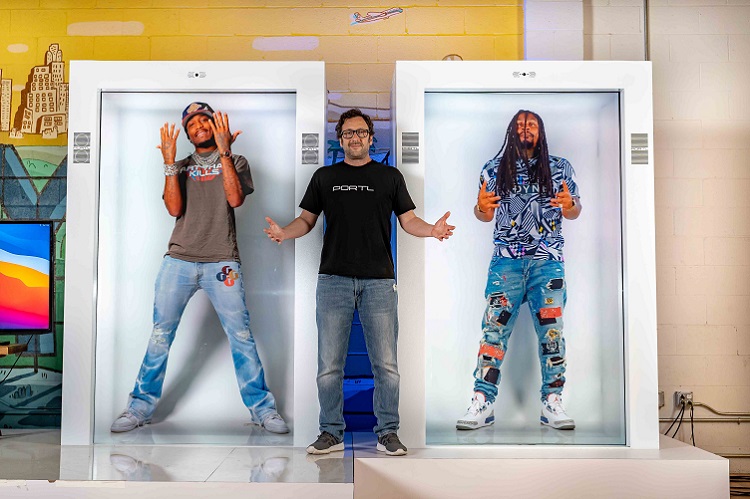 The PORTL Epic 2 is a booth sized 4K touchscreen that serves for public live streaming or video conferencing. Source: PORTL
PORTL Epic 2
Live streaming content in person or video conferencing has previously been limited to a small part of the body on a computer screen or portable device. Sometimes these calls are buffered or of poor quality.
But PORTL Epic 2 changes this as a human-sized, booth-shaped device with a 4K touch screen and high-fidelity speakers designed for displaying live streamed and pre-recorded content.
The video screen gives viewers the impression that the person or object on the screen is 3D. A built-in forward camera with motion capability as well as AI features creates a fully interactive experience that could be the future of conferences or live streaming to public crowds.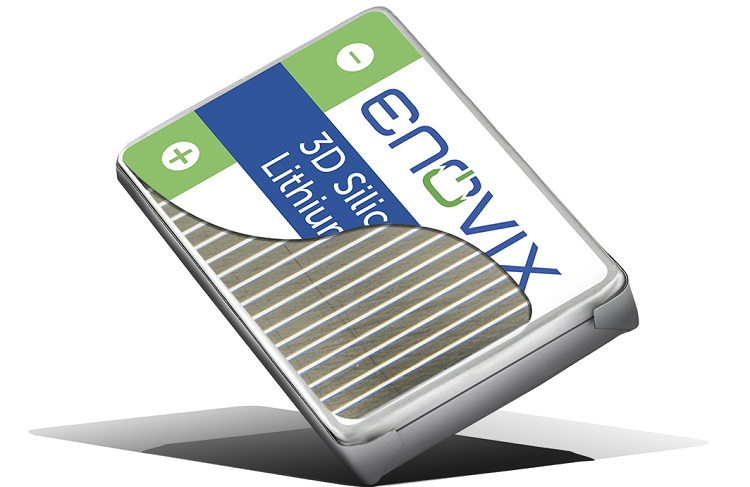 A 3D silicon lithium-ion battery that doubles the energy density than batteries currently available in consumer electronics. Source: Enovix
Enovix's 3D silicon lithium-ion battery
Enovix replaced the wound design and introduced a precise, laser-generated 3D architecture to produce a new 3D lithium-ion battery that can accommodate a 100% active silicon anode. The battery purportedly can deliver up to double the energy density than batteries currently available in consumer electronics.
The company recently produced the first batteries from its Fremont, California, automated manufacturing line and has agreements in place with tier-one consumer electronics customers and a contract with the Department of Defense. Additionally, Enovix has a $20 million agreement with a California-based technology company focused on wearables.
RainStick Shower
What is billed as the first Wi-Fi-enabled circular shower, RainStick Shower is a home technology that saves 80% water and up to 80% energy while simultaneously doubling the flow of a traditional shower.
The shower uses recirculation technology that recovers the water and energy typically wasted. Using a RainStick app, users can track the environment of the shower in real time as well as track the water and energy savings.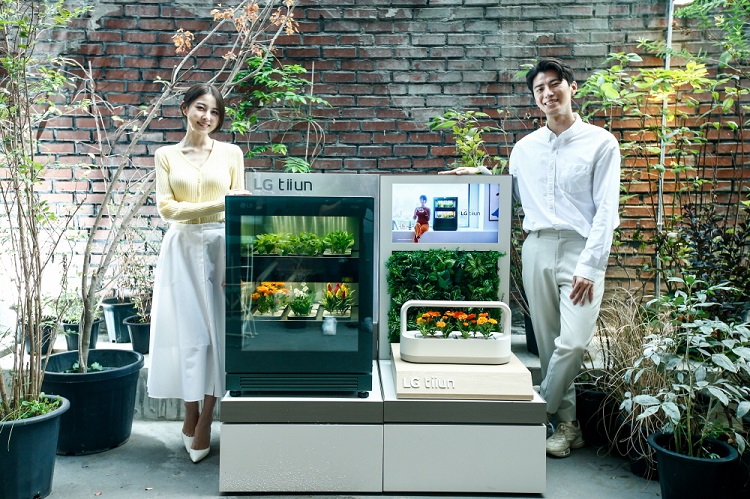 Tiiun is a smart appliance that allows homeowners to grow plants and flowers autonomously. Source: LG
LG Tiiun
LG was honored with more than 24 awards for Innovation by the CTA including its OLED TVs, Air Purifier robot, smart refrigerator and its One:Quick video conferencing system. However, the most interesting thing to come from its awards was the LG Tiiun, a plant germinator that functions much like a smart home appliance.
The device is targeting those who may not be the best at growing plants or flowers or who don't have the space to do so in their homes. Tiiun is an aquafarming system that provides an optimal environment for plants to grow. Plants grow in foam instead of soil in two compartments.
Tiiun uses LG's smart home technology to automatically adjust the light, temperature and water supply and can mimic natural changes in sunlight using temperature-regulating technology.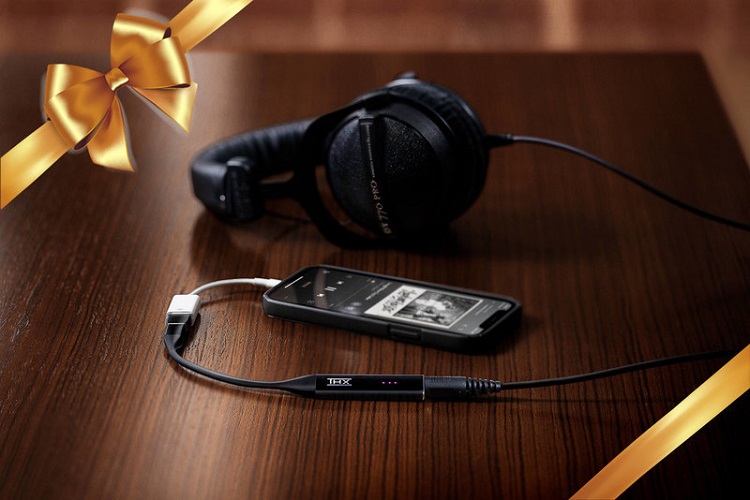 Onyx is a portable digital-to-analog converter (DAC)/amplifier that improves the audio quality of all smart devices and laptops. Source: THX
THX Onyx
THX Ltd. has won an award for its THX Onyx portable digital-to-analog converter (DAC)/amplifier, a product for enjoying music, movies, streaming and games from portable devices or smartphones with improved audio quality.
The Onyx ensures lossless, pure sound and has both THX AAA and ESS Pro DAC technology inside as well as MQA support. It also works across iOS, Android, Mac and Windows portable devices for clear audio that is not possible without such a DAC/AMP, the company said.
Shield smart glasses
Catching an award in the Enterprise category, Vuzix's latest smart glasses, called Shield, are designed to work in the industrial and work settings. Shield is reportedly the first binocular augmented reality smart glasses with HD stereo cameras.
The smart glasses feature a Z87.1 safety glass rating and are prescription ready. The glasses are powered by an 8 core CPU that runs an Android 11 OS with Wi-Fi and Bluetooth. Other features include stereo audio, batteries and a touchpad.
Users can connect to an enterprise cloud and access IT sensors, instructions or live remote guidance so that workers can perform actions hands free.
An advanced reader is enabled through voice or touch and includes the first miniature microLED stereo displays to connect smart workforces with AR systems.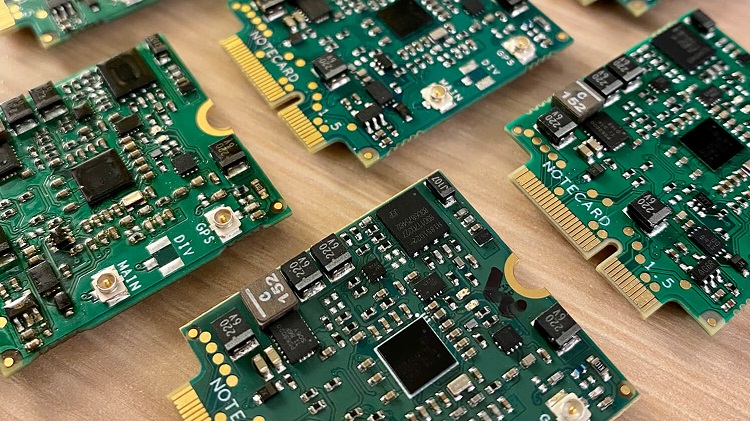 Notecard is a system-on-module (SOM) designed for making it easier to add Wi-Fi to internet of things (IoT) applications. Source: Blues Wireless
Blues Wireless Notecard
Winning an award in the Embedded Technologies category, Blues Wireless' Notecard is a system-on-module (SOM) designed for making it easier to add Wi-Fi to internet of things (IoT) applications.
Notecard comes with a global 500 MB data plan usable over 10 years that is included in the cost of the device. Notecard works with any sensor or microprocessor, and will route to data in any cloud.
Additional features include:
Global cellular over LTE-M, NB-IoT or Cat-1
Secure "off the internet" communications from device-to-cloud
Low-power hardware, ~8 µA when idle
Embed with onboard M.2 Key E connector or via a companion board
These are just a few of the many gadgets and technology honored. To see all the CES Innovation Awards, go to the CES website.