New compact low-profile SPMA series switch mode power supplies from Carlo Gavazzi are a mere 63 mm (2.5 inches) deep.
Designed for industrial and building automation, the SPMA series is a compact, low-profile DIN mount solution with three frame sizes from 17.5 mm (15 W) to 70 mm (100 W). With integrated diagnostics and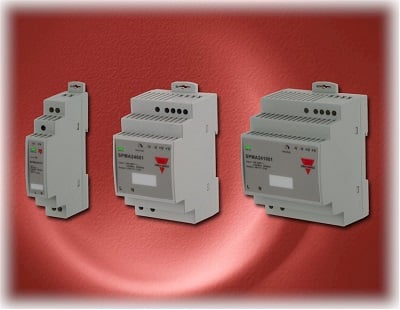 Source: Carlo Gavazziprotection, these products are ideal for applications that demand performance and reliability while maintaining very high efficiency. SPMA power supplies also come with 4k V AC isolation voltage for use in electric vehicle charging stations.
Features include universal AC/DC input of 85 V AC to 264 V AC/120 V DC to 350 V DC and output voltages of 5 V DC, 12 V DC, 15 V DC and 24 V DC. Output power is 12 W to 100 W in devices that include a bi-color LED for status indication. Efficiencies up to 89% are realized in these power supplies with a broad operating ambient temperature range of -30° C to 70° C (-22° F to 158° F).
The SPMA series provides the perfect solution to improve overall performance and reliability and satisfies the demand for advanced features in a compact housing, especially where shallow panel depth is required.