As previously reported, Siemens' Xcelerator portfolio, an integrated mix of engineering software, services and an application development platform, is built around the concept of the digital twin. In the electronics realm, Xcelerator includes a suite of design, verification and manufacturing solutions for integrated circuits and PCBs
In June, Siemens announced that it would transition the approach of its Siemens Digital Industries Software business to a Software as a Service (SaaS) model — not simply adding a new user interface on top of existing tools or moving desktop functionality into the cloud, but fundamentally rethinking its strategy to create greater accessibility, flexibility and scalability.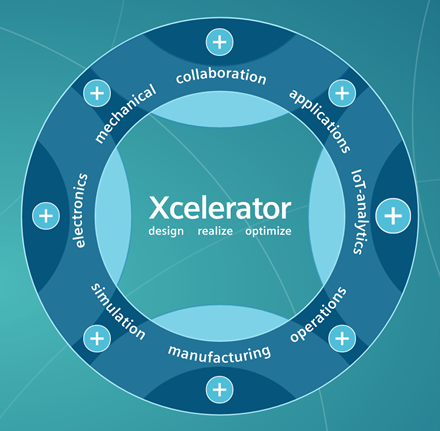 The multi-pronged approach of the Xcelerator platform is now being offered as a service, XaaS. Source: SiemensAt the end of September, Siemens continued that trajectory with the launch of Xcelerator as a Service, or XaaS. According to Siemens, the move will make the Xcelerator portfolio more accessible, enabling manufacturing organizations and their extended value-chains to have a "single source of truth" and the ability to tap into high-performance computing (HPC), at any time, from anywhere and on any device.
As such, XaaS offers the potential to eliminate the need for in-house HPC hardware and IT expertise. Access to tools, features and compute resources are made available based on solutions customized to match the needs of organizations. The platform also offers support for adapting to market conditions by adding capacity and capability as needed.
Siemens reports that it is currently building capabilities and expanding the XaaS offering in the interest of opening new possibilities for companies. Example scenarios include:
A multinational automotive OEM using XaaS to increase collaboration across its globally distributed supply chain, connecting experts across engineering, simulation, manufacturing and production. Low-code capabilities in the application development platform Mendix allow tailoring of the solution to meet specific needs.
An automotive startup using XaaS as a high-end product development toolset to jump from concept to market. The platform can link mechanical design, electronics, software development and other areas, leveraging the possibilities of building comprehensive digital twins without requiring the support of in-house IT infrastructure.
A product designer using XaaS to drive simulation and further innovation based on streams of sensor data from prototype units in the field. The platform also enables generative engineering, which uses artificial intelligence to explore virtual tests based on real-world data.
The service also integrates product lifestyle management software Teamcenter X as a service, furthering the ability to scale along with organizational growth.