The following is an overview of a teardown analysis conducted by TechInsights.
Acer bills its Chromebook Spin 514 as a convertible notebook for users on-the-go that also enjoy being able to watch streaming media and other entertainment while traveling or at home.
The notebook uses AMD's Ryzen processor to support these entertainment options with a 78% ultra-narrow left and right bezel width of just 6.1 mm.
When the COVID-19 pandemic hit and lockdowns began, workers were forced to remain at home working out of home offices or other make-shift areas in their houses. This caused numerous consumers to buy new equipment to support their new status of working remotely.
The Chromebook Spin is not a notebook built for powerful editing or film tools, but to do simple work tasks. It fits the bill as well as has enough power to stream movies or TV shows from popular streaming services such as Netflix, Hulu or Amazon.
The following is a partial deep dive into the inner components of the Acer Chromebook Spin 514 from TechInsights.
Summary points
14 inch TFT w/ chip-in-glass 1920 x 1080 pixels
4 GB DDR4 SDRAM
1MP BSI CMOS
No camera
Target market: Consumer and communications
Released: January 2021
Pricing: $479.99
Availability: U.S.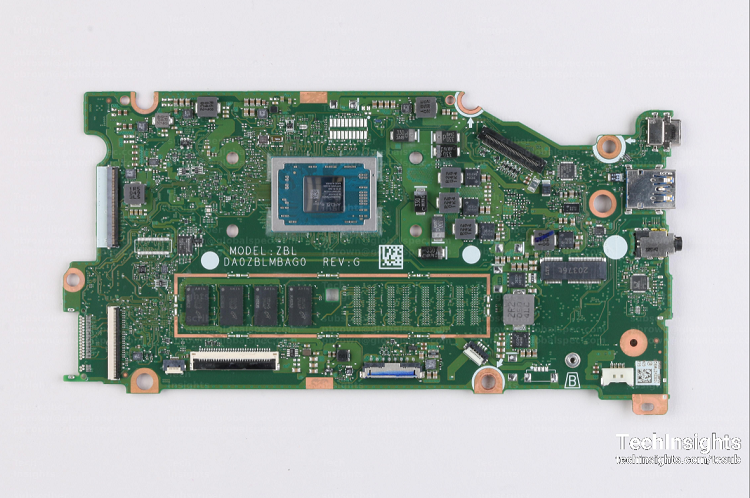 The main board with the brains and memory of the Acer Chromebook. Source: TechInsights
Main board
The main board of the Acer Chromebook Spin is the heart of the device with main semiconductors being contained on the PCB. This includes:
Ryzen dual-core 2.6 GHz application processor from AMD.
USB Type-C with MOSFET from Alpha and Omega.
DC-DC converters from Texas Instruments.
Switches and multiplexers from Texas Instruments.
SDRAM memory from Micron Electronics.
(Learn more about SDRAM memory chips with Globalspec)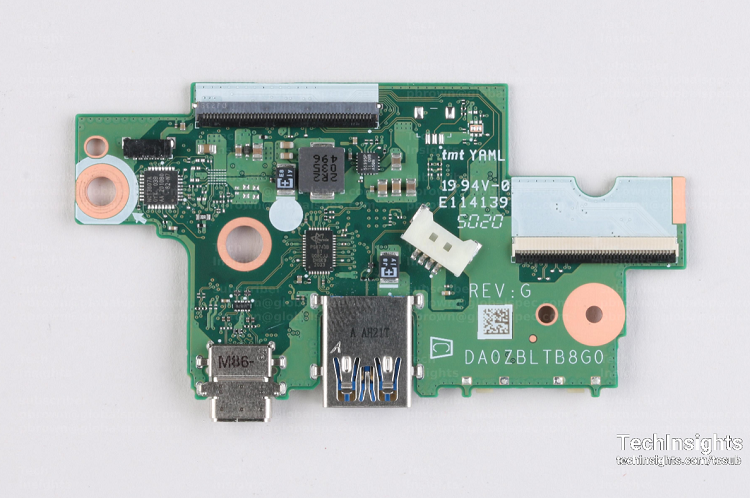 The connecter board houses the main components for the USB in the Acer Chromebook. Source: TechInsights
Connector board
The connector board is the communications hub in the Acer Chromebook Spin with USB Type-C controller and receiving switch from Nuvoton and Parade Technologies, respectfully, and ESD protection from Amazing Microelectronics.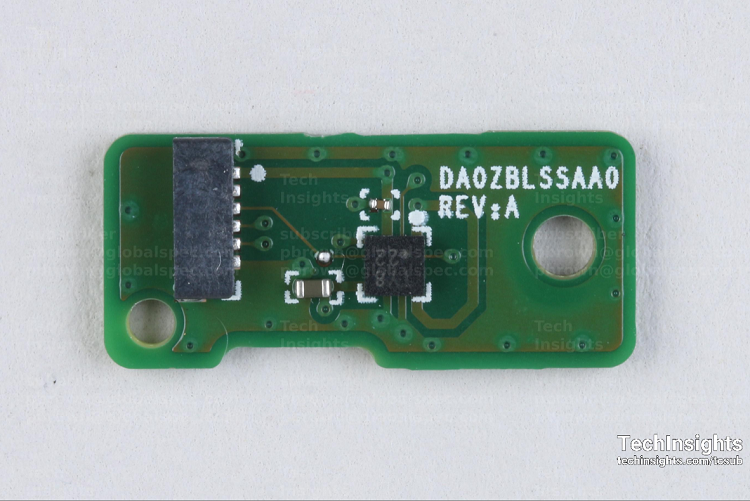 The sensor board inside the Acer Chromebook contains the MEMS used by the laptop. Source: TechInsights
Sensor board
The sensor board contains the PCB responsible for the sensing solutions found in the Acer Chromebook Spin including the three-axis MEMS accelerometer from Rohm Kionix.
(Learn more about MEMS with Globalspec)
Major components
$76.06 – Display/touchscreen subsystem – AU Optronics (Qty: 1)
$54.10 – Dual-core 2.6 GHz Ryzen application processor – AMD (Qty: 1)
$36.99 – Battery subsystem – LG Energy (Qty: 1)
$22.77 – DDR4 SDRAM memory – 1 GB – Micron Electronics (Qty: 4)
$12.56 – Top enclosure (Qty: 1)
$12.33 – Bottom enclosure (Qty: 1)
$9.44 – Internal enclosure (Qty: 1)
$9.24 – Multichip memory – 64 GB 3D TLC NAND flash, memory controller – Kingston (Qty: 1)
$6.83 – Keyboard backlight (Qty: 1)
$5.92 – Wi-Fi/Bluetooth subsystem – Icasa (Qty:1)