TechInsights Teardown: Acer Aspire Vero National Geographic Edition
28 April 2023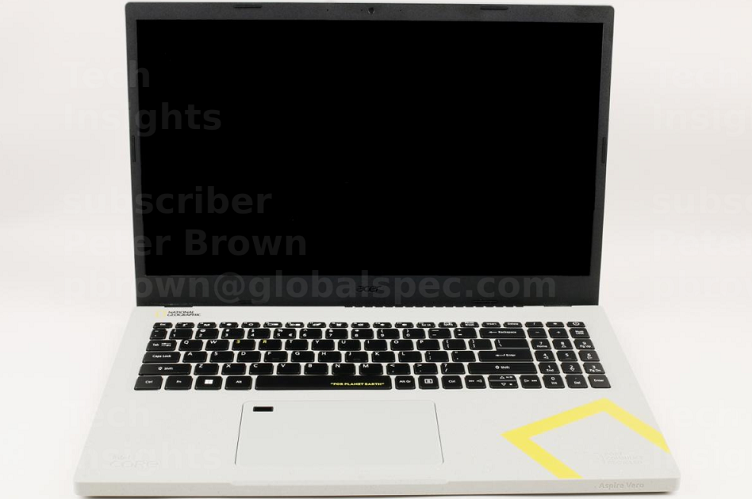 The market for laptop computers never seems to waver as there is a constant need in the IT world for fresh notebooks.
However, the consumer market is also a consistently strong sector for computer systems, so much so the laptop manufacturers have started to create custom builds for people. One of these custom laptops is the Acer Aspire Vero National Geographic Edition.
This laptop features post-consumer recycled plastic and 30% PCR materials as well as 50% PCR keycaps. The laptop features the Intel quad-core application processor 2.5 GHz and SK Hynix 1 GB DDR4 SDRAM memory.
The following is a partial deep dive into the National Geographic laptop performed by TechInsights.
Summary
15.55 inch TFT 1080/1920 pixels
8 GB DDR4 SDRAM
1 MP CMOS
Released: January 2022
Pricing: $783.96
Target market: Compute/IT
Availability: Worldwide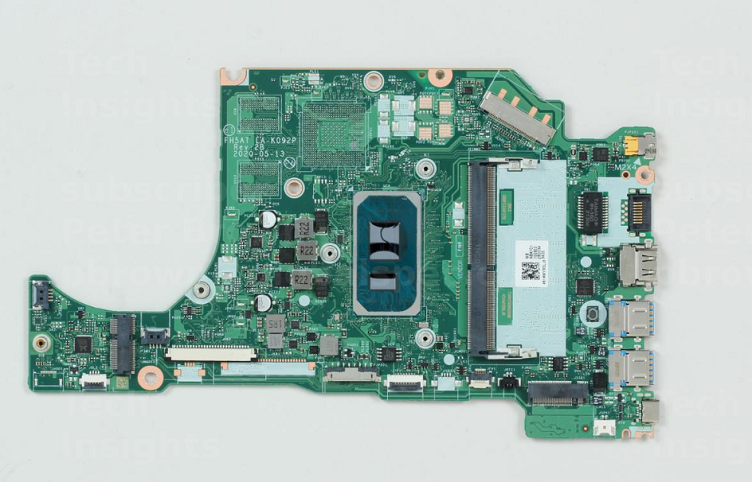 The main board features the main applications processor from Intel and memory from SK Hynix. Source: TechInsights
Main board
The main board of the Acer Vero National Geographic laptop computer contains the main processor and memory that controls the notebook. This includes the Intel 2.50 quad-core application processor and serial flash memory from XMC. Other electronic components include:
RichTek's PWM controller, audio Codec, USB Type-C PD controller and PWM controller with MOSFET drivers
Joulwatt Technology's synchronous step-down regulator
Silergy's step-down DC/DC converter and step-down regulator
Parade Technologies' HDMI repeater/retimer
ANPEC Electronics' 3 AS LDO regulator
Nexperia's non-inverting buffer
Amazing Microelectronic Corp.'s ESD protection
Texas Instruments' Battery charge controller
SK Hynix's DDR4 SDRAM memory
Renesas' USB charging port power switch and controller
(Learn more about microprocessors and microcontrollers on Globalspec.com)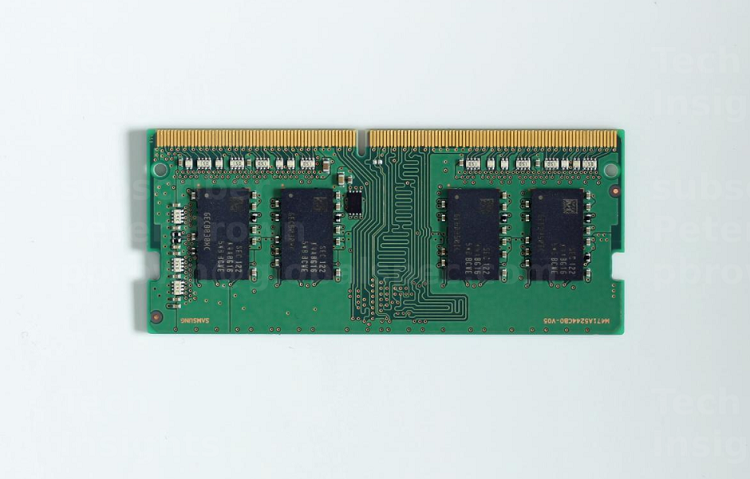 The SODIMM board of the Acer notebook has the main memory for the computer. Source: TechInsights
SODIMM board
The SODIMM board includes the main memory for the Acer laptop computer. It includes the following electronic components like Samsung's DDR4 SDRAM memory 1GB and serial EEPROM memory from ABLIC.
(Learn more about memory chips on Globalspec.com)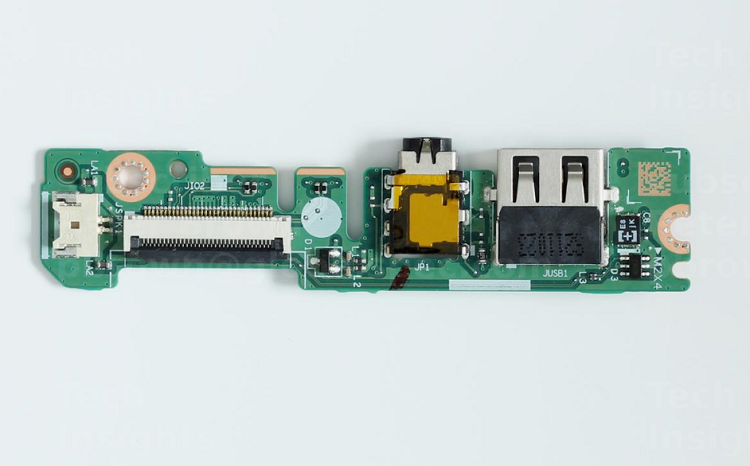 The auxiliary board of the Acer Aspire notebook. Source: TechInsights
Auxiliary board
The auxiliary board inside the Acer Vero National Geographic edition includes the SDE protection chip from Inapac Technology, the half effect switch and the power distribution switch from Global Mixed-mode technology.
(Learn more about power management ICs on Globalspec.com)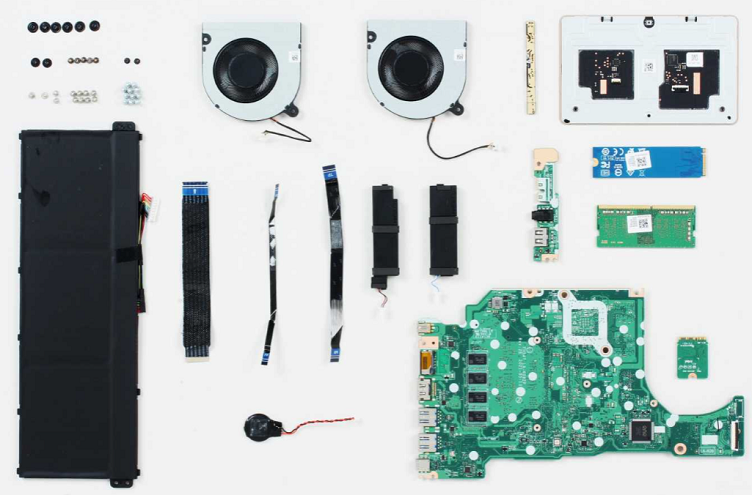 The main components found inside the Acer Aspire National Geographic notebook. Source: TechInsights
Major components
$224.79 — 2.5 GHz quad-core application processor w/platform controller hub — Intel (Qty: 1)
$64.04 — SSD Subsystem — Western Digital (Qty: 1)
$47.30 — 60 Hz display subsystem — AU Optronics (Qty: 1)
$17.38 — Battery subsystem — Zhuha CosMX Power Battery Co. (Qty: 1)
$15.84 — SODIMM subsystem — Samsung (Qty: 1)
$15.49 — Top enclosure (Qty: 1)
$13.89 — Bottom enclosure (Qty: 1)
$12.80 — DDR4 SDRAM memory — 1 GB — SK Hynix (Qty: 4)
$9.26 — Touchpad/fingerprint sensor subsystem (Qty: 1)

Find Free Electronics Datasheets