A real-time platform for validating fuel cell control units (FCCUs) has been engineered by MicroNova and Smart Test Solutions, both based in Germany. The platform is based on the NovaCarts fuel cell hardware-in-the-loop simulator from MicroNova while Smart Test Solutions supplies the MCM IntelliSim modules for simulating single-cell voltages of a fuel cell.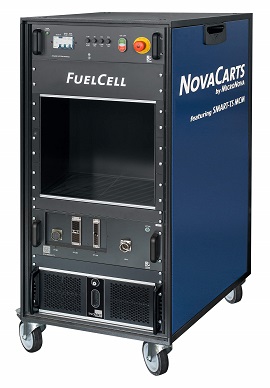 Source: MicroNova
The system simulates the entire fuel cell stack as well as the environment of the associated electronic control units in a vehicle and can be extended for future FCCU technologies via firmware update. The MCM IntelliSim modules are very compact and can be easily plugged together into a multicellular stack in the same way as the familiar CVM G5 cell voltage monitoring modules.
The simulation platform enables automotive manufacturers and suppliers to provide time- and cost-efficient and comprehensive validation of FCCUs. The modular design and networking capabilities of the individual components via real-time Ethernet facilitate future modifications.