A collaboration involving Smart Test Solutions and MicroNova has produced a hardware-in-the-loop (HiL) real-time platform for validating fuel cell control units (FCCUs). The platform is based on the HiL simulator NovaCarts Fuel Cell from MicroNova, and MCM IntelliSim modules for simulating the single-cell voltages of a fuel cell are supplied by Smart Test Solutions.
The simulation platform NovaCarts Fuel Cell featuring SMART-TS MCM simulation platform was specially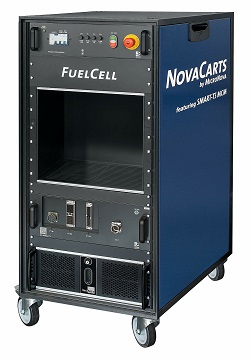 Source: MicroNovadeveloped to validate FCCU performance. It simulates the entire fuel cell stack in electric vehicles as well and can be extended for future FCCU technologies via firmware update. Different electrical loads can be used depending on the test requirements. The modular design and consistent networking of the individual components via real-time Ethernet facilitate later modifications. MicroNova and Smart Test Solutions assemblies can be used equally to provide optimal performance and price sensitivity results.
The IntelliSim modules are very compact and robust and can be easily plugged together into a multicellular stack. Up to 50 modules enable the simulation of a maximum of 500 (single cell simulation) or 1,000 cells (double cell simulation). Through cascading, 1,000 or 2,000 simulation channels are possible. The master module ensures the connection of the simulation via Ethernet or EtherCAT and thus real-time operation. For less dynamic applications, operation via CAN without a master module may be sufficient.