Laser Components USA, Inc. is pleased to announce its newest partnership with Photon Wave, adding to its ultraviolet (UV)-C LED product line, with 100 mW 265 nm technology. South Korea-based Photon Wave specializes in the manufacture of UV-B and UV-C LED chips and packages. Through research and development, Photon Wave aims to play a decisive role in shaping the deep UV industry, with a focus on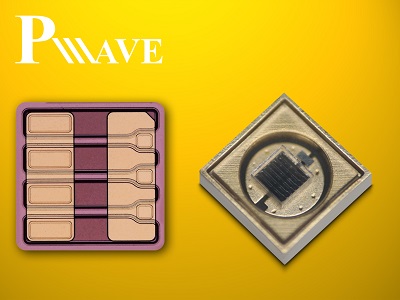 Source: Laser Components USAapplications for air, water and surface sterilization.
The technology used enables UV-C LEDs with higher efficiencies and longer lifetime in the 250 nm to 315 nm wavelength range. This is used for a large active area and a uniform current spreading design (patented) that allows high injection current operation. This is processed for an optimum geometry shown to have excellent emission power. UV-C/B LEDs are the best solution in replacing mercury lamps in fluoro-sensing equipment, offering several advantages that include better performance, less power consumption and stable life. Offerings include a large breathe "wave" of wavelengths and energy bands to suite any niche or need.
Used mainly in the inactivation of various pathogens, UV-C is used for sterilization and disinfection applications. UV-B has the similar effect of sunlight in that it enables applications in horticulture, skin therapy and medical devices.