Seven new solutions from Qualcomm Technologies are engineered to enable the proliferation of next-generation internet of things (IoT) devices. These solutions range from entry-level to premium tier to meet the needs of the expanding IoT ecosystem for key segments including transportation and logistics, warehousing, video collaboration, smart cameras, retail, healthcare and more.
The Qualcomm QCS8250 delivers compute intensive artificial intelligence (AI) at the edge with support for Qualcomm Wi-Fi 6 solutions and 5G connectivity. This solution is designed to deliver premium-level performance through the Qualcomm Kryo 585 CPU architecture, the Qualcomm AI Engine, and powerful image signal processor to support up to seven concurrent cameras with encode at up to 4K resolution at 120 frames per second.
The Qualcomm QCS6490 and Qualcomm QCM6490 are designed for industrial and commercial IoT applications such as transportation, warehousing, connected healthcare, logistics management and across retail point of sale kiosks. Equipped to support 5G mmWave/sub-6 GHz and Wi-Fi 6E, this solution helps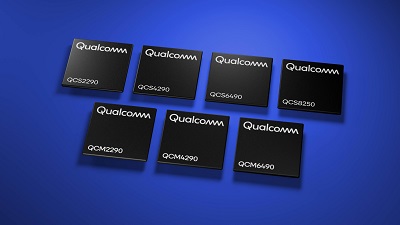 Source: Qualcomm Technologiesenable the latest generation of ruggedized handhelds and tablets, industrial scanners and human-machine interface systems.
The Qualcomm QCS4290 and Qualcomm QCM4290 platform delivers powerful performance, dynamic camera capabilities and broad connectivity options (LTE Cat13, Wi-Fi 6-ready), ideal for industrial and commercial IoT applications such as industrial handhelds in logistics and warehousing, security panels and cameras.
The Qualcomm QCS2290 and Qualcomm QCM2290 entry-level platform is a cost-effective solution, delivering greater performance, higher graphics capabilities, better quality images and improved power performance for retail point-of-sale, industrial handheld, tracking and camera applications.