Qualcomm Technologies Inc. has introduced a new robotics platform that combines the company's 5G technology with artificial intelligence (AI) for manufacturers to create a new generation of low-power robots and drones.
Designed for the consumer, enterprise, defense, industrial and professional service sectors, the Qualcomm Robotics RB5 platform is powered by the Qualcomm QRB5165 processor and offers a heterogeneous computing architecture coupled with the fifth-generation Qualcomm AI Engine delivering 15 tera operations per second (TOPS) for running AI and deep learning workloads.
Qualcomm said it has more than 20 early adopters evaluating the platform and more than 30 ecosystem players developing hardware and software for the robotics system. These companies include: 96Boards, Acontis, ADLINK, AirMap, AirServe, Airtonomy, AlwaysAI, Augmented Pixels, Autocore, Autoware Foundation, Canonical, DeepEdge.ai, DreamVu, Dronecode, Fractal.ai, GlobalEdge, Innominds Software, InOrbit, Intel RealSense, Lantronix, Linaro, LiteOn, Kudan, ModalAI, Nod, Open Robotics, Panasonic, PathPartners, Pilot.AI, Shoreline IoT, SLAMCORE, TDK, Thundercomm and Tier IV.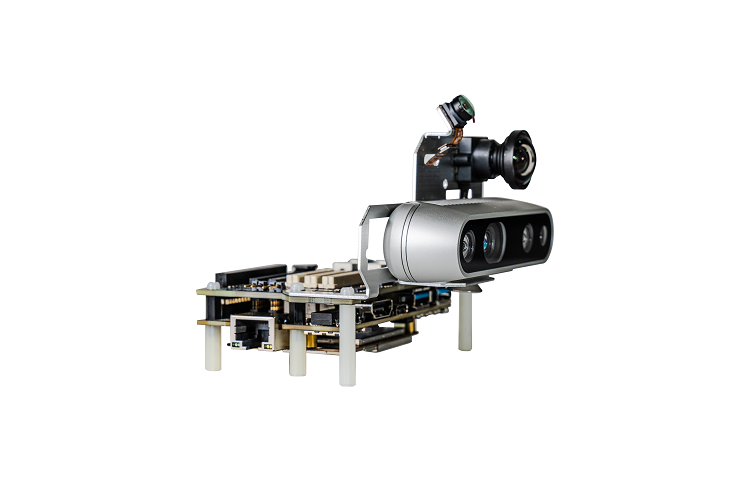 The Robotics RB5 development kit allows companies to develop their own robots with 5G and artificial intelligence included. Source: Qualcomm
The QRB5165 processor integrates the octa core Kryo 585 CPU, Qualcomm Adreno 650 GPU, multiple DSPs, and ISPs. Other processor features include machine learning using the Qualcomm Hexagon Tensor Accelerator (HTA), an image signal processor with support for seven concurrent cameras and a dedicated computer vision engine for enhanced video analytics. Qualcomm said the integration of 4G and 5G connectivity helps pave the way for a proliferation of 5G in robotics and intelligent systems.
As part of the rollout, Qualcomm has entered in a strategic collaboration with TDK to add its sensor technologies for enhanced robotics applications.
Other features of the robotics platform include the Qualcomm Spectra 480 image signal processor for photos and videos that can process 2 gigapixels per second. The image sensor includes Dolby Vision video capture, 8K video recording, 4K HDR video capture and 64 megapixel photos.
Qualcomm secure processing unit provides security for the robotics platform including secure boot, cryptographic accelerators, Qualcomm Trusted Execution Environment (TEE) and camera security and is FIPS 140-2 certified.
The Robotics RB5 platform supports long-range Wi-Fi and Wi-Fi 6, Bluetooth 5.1 and 4G and 5G.
Qualcomm said that commercial products based on the platform are expected to be available later this year.